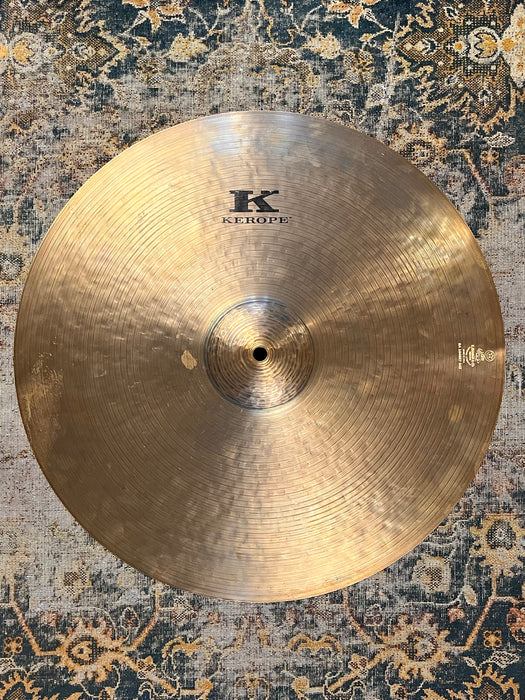 DARK DRY Zildjian KEROPE Crash Ride 19" ONLY 1560 g CLEAN Versatile Don't Pay $519!!
Original price
$399.99
-
Original price
$399.99
Here's a gorgeous Istanbul Agop Cymbal that has a Zildjian logo on it. Hahahaha ohhhh come on!! We all know this is Zildjian just biting off the Agop Signature.  But I will say, Zildjian did create a tasty morsel!  


And this one is particularly DRY for the series - very controlled. That's the beauty of a 19". 


This Kerope 19" costs over half-a-grand! I'm not kidding. And that's for a guess at a stock photo - you don't even get to hear it first!!


But never chez Hazelshould! That's blasphemous! Listen away so you can buy with confidence! 


Beautiful sounding exceptionally DARK and dry, very mellow Kerope MULTI Light Ride or Thin Crash Ride in the harder to find 19" size!


As many of you may know, these Keropes are not available from Zildjian right now - I have no idea what is going on but they don't have them. 


Factory pre-aged patina gives this Zildjian an old-school, semi-dry tone and vintage look and vibe. 


The attack is prominent and controlled but has a light sweetness to it.  


Vintage Zildjian Istanbul K styled bell.  


Only 1560 grams factory labeled under the bell -very mellow and controlled and balanced attack/wash ratio.  


One of the THINNER 19s" I have come across in the series. 


Crashes great with a dark, dryness to it. Not overly smoky.  


Perfect for very low to medium loud settings. Gorgeous under the mic. 


Amazing condition - no issues.  Very mellow with a light dryness to it.  A gorgeous Zildjian. 


Actually available! And NOT $520!!!!