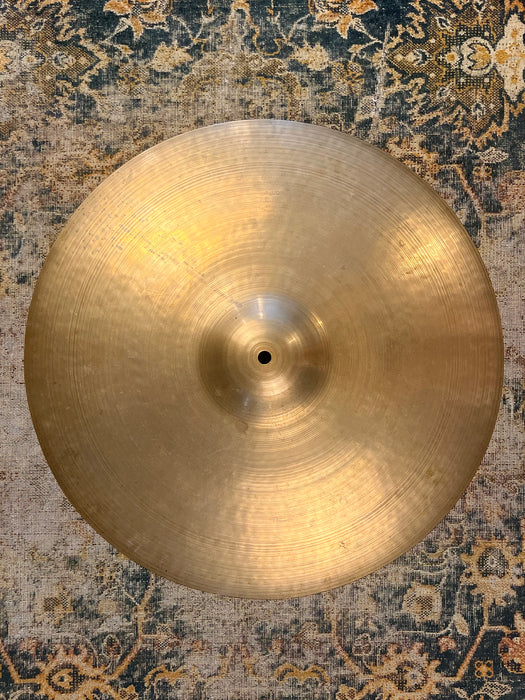 Rare DARK SEMI-DRY Vintage Zildjian EARLY 1950s Block Stamp 18" Ride 1582 g
Original price
$379.99
-
Original price
$379.99
No need to shell out more money for a machine-made Zildjian when you can actually have the 70 year old Hand Hammered Zildjian for less! 


Yes! The Original 1950s BLOCK STAMP Hand Hammered Zildjian in the rare and controlled 18" size. It's very hard to find this era in an 18". 


This era along with the 1940s Trans Stamp era is my favorite period of Zildjian.  It's the golden age - the age they made their name!l


The alloy from this era is softer and the cymbals have a darker, warmer glow to them. It's almost like they're made from a different metal than the 1960s and on….

This 18" Block Stamp makes the perfect complement to a 20" or 22. Crashable.  Rideable. Dark but also controlled. And surprisingly dry.  Terrific definition. 


Absolutely stunning Hand Crafted work - look at the wavy surface! That's not a machine. 


Weighing in at perfect 1582 grams this 18" offers a simply fantastic stick attack - it has a 6-decade old patina that dries this Zildjian out beautifully and it lives in the Medium Thin to Medium range. 


Semi-dry, medium-low to low in pitch. Super mellow and focused. Aged particularly well with a pinpoint stick attack and hints of darkness. 


Good definition and penetration but still remains controlled and mellow. The very solid bell for an 18".   


Crash on it for a very full and loud accent. It's FULL when you lay into it and is fairly dark too. 


Terrific shape. No issues. 


Small combo Semi-dry Ride or Left Side Crash Ride to accompany your main Ride.



Whatever you decide this 1950s Hand Hammered Zildjian Rare 18" can occupy many positions on a kit.