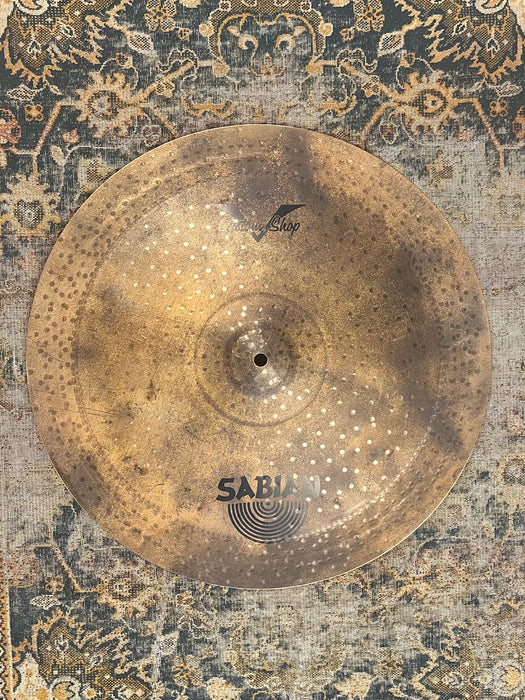 UNIQUE Sabian TURK HH PROTOTYPE 18" Raw China Swish 1616 g PERFECT
Original price
$339.99
-
Original price
$339.99
What if Sabian made an Istanbul TURK?


Well apparently they did!  At least once! 


Here's a One-of-a-Kind Sabian. I've never even seen this beauty before! 


It's an HH Hand Hammered Prototype but it's raw and unlathed like an Agop TURK! 


Sabian Custom Vault HH Prototype China or Swish in immaculate condition! 


I love that Sabian experiments! Zildjian is so conservative it's stuffy!  Sabian explores and they always have. I admire that. 


And this Prototype is the fruit of their philosophy. 


At 1616 grams this Prototype plays like a Medium Thin. 
DRY and extremely organic with that exotic Hand Hammered tone that turned heads 40 years ago when Sabian began. 


All that beautiful Hand Hammering supplies a wonderful complexity however being an unlathed and raw Turk style -  this China is DRY and has a fairly quick decay. Very earthen and organic looking and sounding.  


Unlathed and Raw TURK surface is ripe for the striking! It makes a fantastic alternate ride cymbal.  The stick attack is solid - especially for a China. 



18" size 

makes it controlled and have a quick and cutting  attack. 


This is exactly the kind of cymbal Jack DeJohnette would play.  Very expressive and musical. 



Immaculate condition.  Nothing like it.  A beautiful Turk Sabian that they never offered - well, except once!