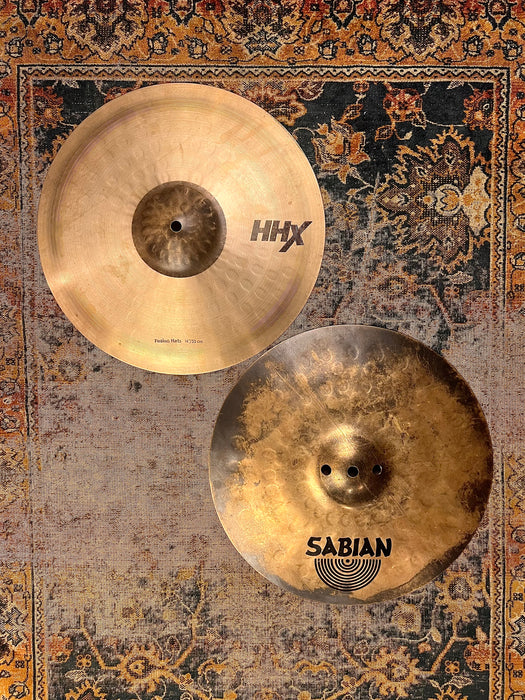 Rare DARKER CRISP SABIAN HHX FUSION 14" Hihats 1030 1780 g DISCONTINUED
Original price
$299.99
-
Original price
$299.99
Like K/Zs …. But this pair seems to have an ounce of PAISTE in them!!  And they're 14s". 


They're CRISP, clean sounding, and have a pinch of darkness in there!  But they also have a bit of bright cut with that gorgeous raw bell on top! 


These hihats would run you $540 new today - BUT….you can't even get them anymore!   I know, I know!  It's crazy! These are flagship Sabian HHX 14s" but they were pretty hard to find even when you could get them. 


Top of the Line Sabian HHX Hand Hammered 14"FUSION Hihats in fantastic condition.  


Thinner Top makes this pair a bit darker and responsive. Classic HHX lathed warm tone on that Top Cymbal too. 


These Fusion Hats were Sabian's version of the famous Zildjian K/Z Combo Hihats that a young drummer on the scene was fond of when they debuted- Dave Weckl…


….And then of course he moved to Sabian.


If you look closely the Top Cymbal has the classic HHX raw bell, fully lathed plain, large HHX style Hammering that differentiated Sabian from Zildjians.


And what I love is the Bottom Cymbal is UNLATHED raw - like a LEOPARD Ride. That's the look and feel. Monster CHICK tone.



Wonderfully balanced weights at 1030 and 1780 

grams gives these HHX Fusions a tremendous sounding K/Z style bone-crunching CHICK when played with your foot.


And the actual HHX craftsmanship gives this particular pair a pinch of darkness and warmth. Couple that with the larger 14" size, and you have a FAT, CRISP CUT that penetrates a mix live and in the studio.  


Sabian Factory Quick Beat Style holes on the bottom cymbal for FAST anti-airlock CHICK with your foot.


ULTRA CRISP. Tight. Very articulate stick attack that is responsive and fast! Subtle Hand Hammered warmth with a bit of darkness. Tremendous CHICK.


They capture a clean SOUND! One of the cleanest you will hear - but there is still a bit of darkness mixed in! 


Great for medium soft to very loud settings. Anytime you need a clean cut.


No issues. Overall clean with a subtle, light patina.


Pretty hard to find these days, especially where you can hear them. Buy with confidence. 



Rare and fantastic sounding CRISP hihats.