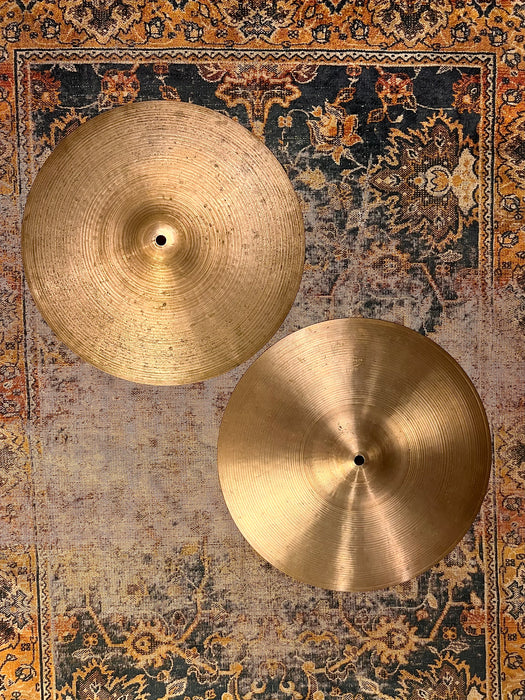 1960s Vintage Zildjian EARLY New Beat Hi Hats 14" 845 1197 g LIGHT Complex
Original price
$379.99
-
Original price
$379.99
Don't go $430 deep on the big box store new New Beats. 


The Vintage ones are THE SOUND. The new ones don't capture this - try as the companies do…


And this particular pair is from the FIRST FEW YEARS OF PRODUCTION and has a THIN Top cymbal - only 

845 

grams. They have a sweet lightness to them. 


This pair has a subtle complexity. They have a light wispiness to them, a lively shimmer when opened - like an old Motown recording. 
Beautiful 60s hammering and lathing on these Early New Beats.   Especially on the underside. 
CLASSIC pair of crisp, clean-sounding articulate, slightly complex VINTAGE 1960s EARLY Zildjian New Beat 14" Hi Hats in fantastic shape!


The most recorded hi hats in history.


THIN 845 Top Cymbal, and a heavier 1197 gram Bottom Cymbal (that's still thin by modern standards.) These 14s" espouse the time-honored New Beat philosophy of a thin top cymbal coupled with a heavier bottom cymbal to supply plenty of CHICK tone!



And that they do!! Crisp, tight, clean, and articulate sticking that is focused when closed, compliments of that 5 -decade old patina. Wispy light and airy accents when opened. 
Great RINGO style slosh when opened fully.


The Real Deal. 
These beauties are drier but also more complex sounding than the $430 new ones - they have aged and focused up beautifully but also have a thinner top cymbal. 
Incredible for recording! Plenty of cutting ability for live situations.
There's a reason everyone wants Vintage New Beats!  They just do the thing! 


No issues. Light wear. 50 year old patina focuses them beautifully. 


Real Deal EARLY New Beats from the 1960s with a thinner top. 



Don't spend more for less….