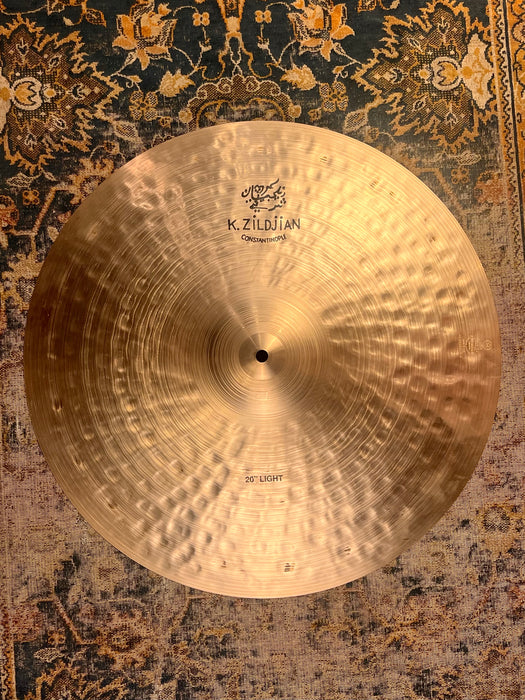 Rare LIMITED Zildjian K CONSTANTINOPLE LIGHT RIDE 20" 1818 g THIN IMMACULATE
Original price
$499.99
-
Original price
$499.99
Here's a VERY Hard to Find, VERY THIN Limited Edition Zildjian K Constantinople 20" RE-ISSUE LIGHT RIDE that is in IMMACULATE Condition!


This is by far the THINNEST one I've seen. 


ONLY 1818 grams - very thin for a K Cons. 


AND THE HANDIWORK LOOKS EXACTLY LIKE THE ORIGINAL LIGHT AS WELL!! Look at the closeups!


It's perfect. 


Of course Armand Zildjian's signature is emblazoned on the underside!


And this specific 20" has an amazing attack for a "LIGHT RIDE!" Very nice articulation for a THIN K Constantinople Sizzle.


This 20" K Constantinople Ride is, not surprisingly, a terrific Light Ride. It's thin. The weight is only 1818 grams. 


The tone is dark, extremely MELLOW, and very warm and glowing. There is a FANTASTIC stick definition on top with a dark, warm wash rumbling underneath. 


As you can see, the bell is hammered and integrated - EXACTLY LIKE the ORIGINAL LIGHT RIDES, but still solid enough for "the latin thing." It's remarkably crashable because it is a pretty thin K Cons.


Exceptionally BALANCED. Medium low pitch, responsive, glowing, FANTASTIC STICK DEFINITION for a Light Ride. 


THAT IS THIS RARE ZILDJIAN!! And it's PERFECT!! Playable. Collectible.