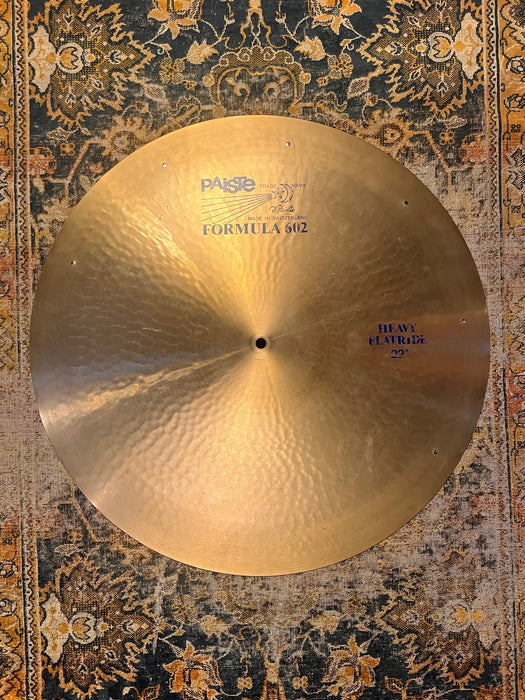 ULTRA Rare 1983 Vintage Paiste BLUE LABEL 22" 602 Heavy Flat Ride Sizzle 3464 g GOTTLIEB
Original price
$699.99
-
Original price
$699.99
A Holy Grail Paiste - and one of the rarest! The Blue Label 602 22" Heavy Flat Ride.


They must have offered it for one week in 1983 because I've never seen another.


Made famous by Danny Gottlieb, Pat Metheny and that inimitable ECM sound. It's the larger cousin to the Roy Haynes "Now He Sings, Now He Sobs" voice.



At 3424 grams it provides a pinpoint definition that is the epitome of that uniquely Paiste clean and glassy shimmer made famous b

y myriad recordings. A beautiful piece for the studio - nothing else captures this.


Being the "Heavy" the definition is strongest and it cuts a mix  quite well.  Clean and articulate under the mic, precise definition live.


With the generous 22" size it's darker and lower pitched  than its little brothers and offers an expansive field for playing.


Adorned with 6 rivets to accentuate the shimmer. It's like playing a serene lake!


Perfect from a delicate whisper to medium loud (because it cuts great for a Flat.)



Playable. Definitely collectible. The 1983 Blue Label 22" Flat - a famous signature tone you cannot find today.