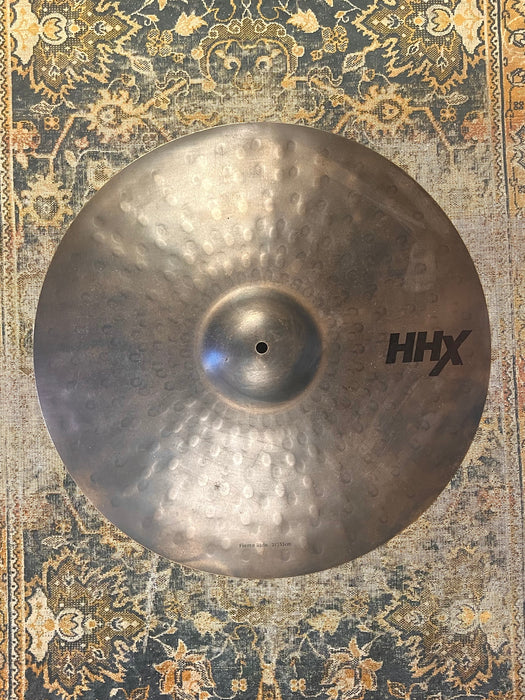 ULTRA DRY Sabian HHX FIERCE Ride 21" 2188 g Jojo Meyer CLEAN THIN
Original price
$349.99
-
Original price
$349.99
No need to thrown down $534 - yes - $534 on a big box store shot in the dark on what your cymbal sounds like. 


Have a listen to this exact cymbal right here so that you can buy with confidence. 


And DAMMIT is this one DRY!  Then driest and thinnest one I've ever seen! This 21" is all about the attack. 


Sabian HHX  Jojo Meyer 21" Fierce Ride in terrific shape.  


A wonderfully thin 2188 grams! Organic Thin DRY Ride or huge Dark Complex Crash. Great rounded over bell!


This Sabian 21" plays like a Thin to Paperthin Dry Complex Dark Crash or Light DRY Ride. 
As you can see, the surface is wavy and heavily hand hammered. The tone is dark, COMPLEX, organic, a bit exotic but with a smoothness in there.  


It's remarkably responsive at low level volumes. A simple flick of the finger sets it off a' rumblin'.


When you ride on this beauty the stick attack sits subtly above the wash. 


Very thin, slightly bendable edges make this raw and unlathed beauty easily crashable. 


So responsive it's great for brushes and mallets.


Super played-in look and feel. Plays like it's 60 years old.  


Perfect for very low to medium loud settings.


If you're only bringing one cymbal to the gig - this is a great choice!


No issues.  Fantastic shape.  That $534 brand new one looks identical to this one! But who knows what it sounds like!  I bet not this dry….