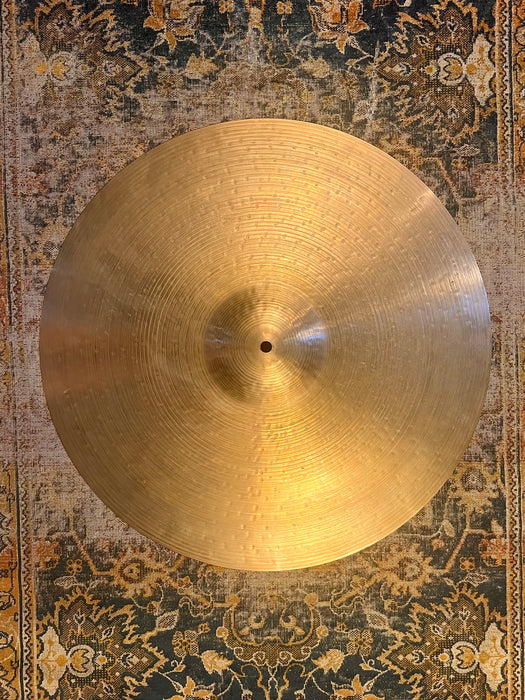 ULTRA WARM Smooth Sabian HH 21" VINTAGE Ride 2327 g Semi-Dry Vintage Look/Tone
Original price
$279.99
-
Original price
$279.99
Not a google image stock photo - in the flesh! And you can listen to it! Buy with confidence! 


That's right!  This is a harder to find Sabian HH Vintage Ride in the 21" size. And it has a Vintage LOOK to it as well. 


Trying to find one of these out there today is tough - especially one that you can listen to. But they are so nice and smooth.  And this 21" has aged and mellowed over the last 2 decades. It's more chill than a new one. 


This Vintage HH 21" is one of the WARMER, SMOOTHER Sabians you will hear.  But it still has a fantastic stick definition - that's what makes it so interesting. 


Very crashable with a sweet stick attack that's focused.  It's like a Zildjian Sweet Ride but ACTUALLY HAND HAMMERED. 
2327 grams. 


Medium Lower pitched, fairly dark, and wonderfully SMOOTH with a woody stick attack. Subtle light chime-like stick definition that is a bit smoky and not overly ping-y. It's soft and subtle.


This 21" Crashes with ease to deliver a lush, blossoming wash that can really roar when you lay into it. Great bell. Hand Hammered all over the place.


Incredibly versatile. Plays like a Multi Purpose Medium Thin. 


This 21" can work in any style of music. 


Goes from soft to loud. Light Ride to big warm crash with ease. 


No issues. CLEAN with no logos on purpose for a Vintage look to match the sound. 


Don't spend $600 on a stock photo guess. Listen to this one. It's a beauty!