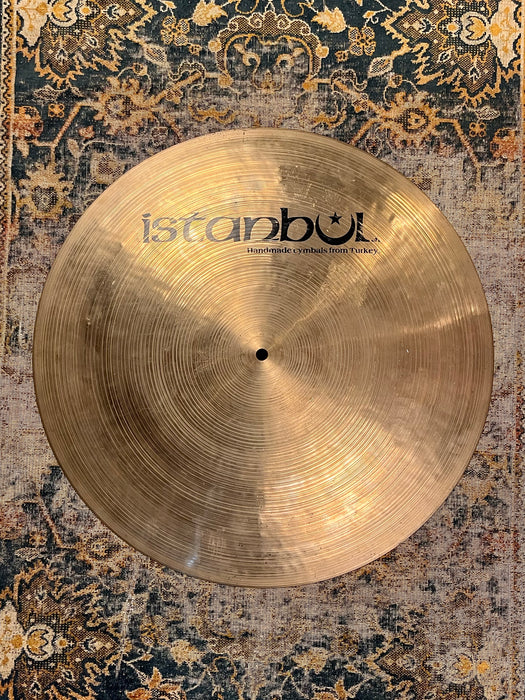 RARE Istanbul Agop Mehmet Pre Split Flat Ride 20" 3085 Gs DANNY GOTTLIEB CLEAN
Original price
$429.99
-
Original price
$429.99
Here's one of the rarest Istanbuls you will ever see. Super early and collectible! A fantastic cymbal that comes alive with a great touch.  


And as many a Cymbalholic knows, this Pre-Split Istanbul Flat Ride is affectionately known as the "Danny Gottlieb Signature", because…well that's what his Signature Model was….this 20" Flat Ride. It even has the Factory Black ink too like his Signature instead of the green.  
Rare very Early Istanbul Pre Split Agop Mehmet 20" Flat Ride in fantastic condition. Both Signatures are prominently under the bell. 
A perfect blend of a focused  pinpoint, chime-like stick attack mixed with a hint of Hand-Hammered smokiness - but just a pinch. Very TIGHT and clean sounding, especially for a Hand Hammered cymbal.


3085 grams ensures plenty of cut without clank! 
Unbelievably smooth, reminiscent of the Paiste 602 18" Flat Ride but with a slightly more organic, earthen tone.


This beauty has aged 30 years and is tight and crisp.  You can build an entire set up around a unique voice like this. Something that stands above the rest.


Absolutely fantastic condition with no issues.  Amazing shape. Light Golden patina that has befriended it and dries it out.


Extremely strong logos. Incredible shape. 


This cymbal was a meteor in the night in the 1990s. No one was making Hand Hammered cymbals like this - in the Old World way.  And the rest they say….is history, and you can own a piece of that.