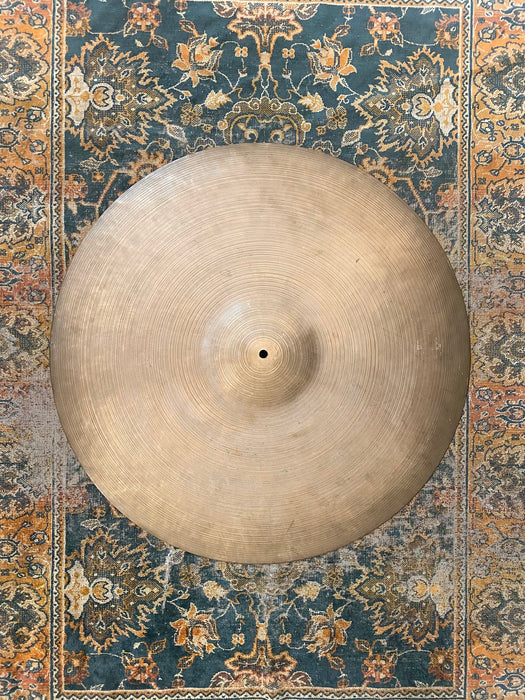 ULTRA RARE 24" Vintage Zildjian ISTANBUL K 3692 g DARK DRY
Original price
$3,499.99
-
Original price
$3,499.99
I'll keep this one simple:


If you want a signature sound, it's starts here. And ends here. 


Massive 24" Vintage Zildjian Istanbul K. 


I've seen about 3 of these in the last 30 years. The wait pays off. It's one of the rarest, most collectible cymbals I've ever encountered. 


This is the cymbal cymbal-makers have been trying to make for eons. 


Dark. Dry. Low. Organic. Brooding. Lower pitched with a unique, hand shaped bell that measures 6.5". 


Even among Istanbul Ks this 24" stands above, it has an ineffable musicality. It's just its own instrument and it's a joy to explore. 


Stunning, striated, deep lathing patterns on the surface, very wavy Old World Hand Hammering gives this 2 foot beauty an intensely rippled surface. 


There's no mistaking it. 


3692 grams. 
Dark, chocolate brown half-century old patina matches the sound.


No issues. Hand made.  Glorious.


Thinking of starting a cymbal company - start with this. It's as nice a piece as you will ever see. 


This Zildjian Istanbul K 24" is to be celebrated for its history, cultural musical significance, artistry, and its sound.


Forged in Turkey, it's been making music for the last half-a-century and has much more to say.



When perched on your kit, you don't walk by…you sit down…and take one moment longer.