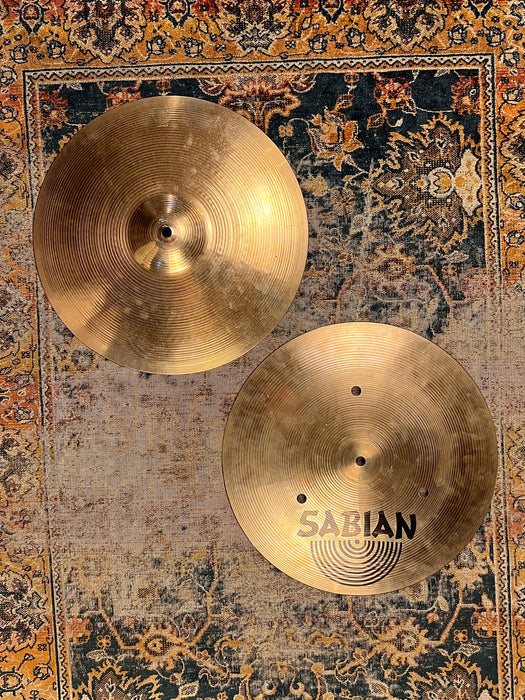 RARE ULTRA CRISP Vintage Sabian 14" FLAT Hihats 1132 1410 G Super CLEAN
Original price
$259.99
-
Original price
$259.99
Here's a rare pair of VINTAGE Sabians - some of the CLEANEST you will find. It's hard to believe they're 40 years old! 


They're the perfect combination of bright but have aged and mellowed over 40 years. Very crisp and articulate but they have a controlled tone. 


And you can't get these from Sabian unless it's an insanely expensive special order and a long ass wait. 


Vintage Sabian Hollow Logo 14" FLAT HATS Hihats in amazing shape. And this was back when Sabian had to prove themselves by trying to take over big brother - literally. 
These were Sabian's answer to Zildjian Quick Beats. And they were made when Quick Beats were only around for a decade or so.  Very early pair right here!


These Flat Hats, along with Quick Beats were described as:
"Features air-vented, flat-bottom cymbal for accelerated response and clarity. Exuberant Hihats that burst with a classic voice that is pure, bright, and expressive. Flat Hats have an especially fast response with three holes in the bottom that allow quick air release." 


But AGED over 40 years - they have a crispness that is not harsh. 
As you can see, the bottom cymbal is FLAT and outfitted with 3 factory holes that facilitate FAST foot action with your pedal. Does it really work? Hell yeah. The difference is immediately noticeable. 


With their SUPER CRISP Tone...and I mean SUPER CRISP...and CLEAN, and bright, TIGHT attack, these 14" FLAT HATS project supremely. And the flat, three-holed bottom cymbal is a joy to work with your pedal.  


The weights are 1132 grams for the Top Cymbal and 

1410 

grams for the Flat Bottom Cymbal.  


Perfect for rock, reggae, pop, R'n'B.  Drum & bass. Hip hop. And anytime you need a bright cutting tone.  Great live or for recording!


The cleanest Vintage pair I have ever seen!


No issues. 


Insanely CRISP!  Very tight and controlled!