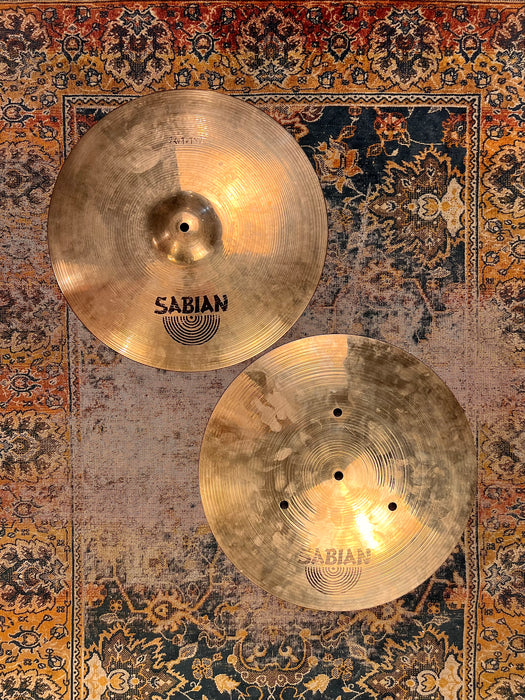 UNIQUE Custom Sabian PROTOTYPE 16" FAST HATS Hihats 1322 1884 g QUICK BEATS
Original price
$399.99
-
Original price
$399.99
16" QUICK BEATS?



No….but YES!! PROTOTYPE Sabian 16" FAST HATS (Quick Beats) in the most delightful of weights: 

1322 1884 grams.


I have never seen these before. And I've never seen 16" Quick Beats either.  But I'm glad SOMEBODY made them…at least once! That's what a love about Sabian - they have fun with it. Flat Hihat Bottom with 3 factory holes - Fast Hats or Quick Beats. And it's genius because who doesn't want faster 16s"!


Shut these 16s" tight for a very articulate ON TOP focused tone that mixes well with the snare - Quick Beats we're on tons of disco and 70s dance albums. That's the tone.


Open them for a tsunami of sloshy wash. Darker and lower pitched because of their massive 16" size and a lot of real estate for sticking. And the name doesn't lie - the factory holes keep these 16s" from being sluggish.


And just when you thought the day had reached its pinnacle…wait for it…..


They're BRILLIANT!


Viola! See. The sun just jumped a little higher in the sky!


No issues. Terrific shape. You won't find these anywhere, they were never cataloged and this is the only pair I've seen in 25 years.



It's a lot of fun playing something unique!