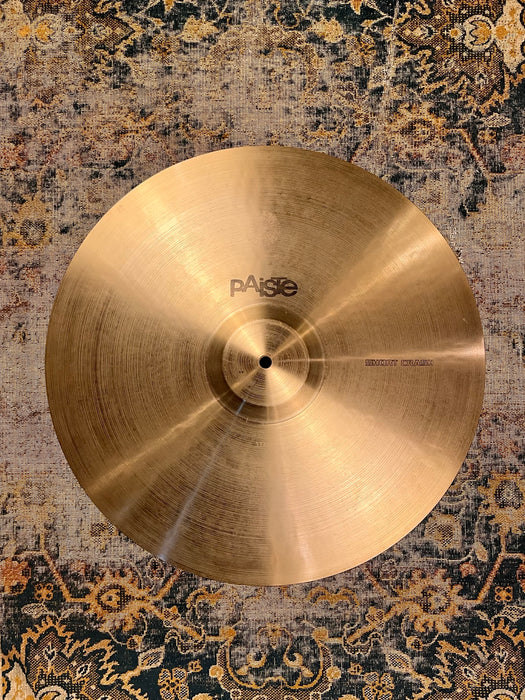 VERY RARE Vintage Paiste SOUND CREATION 18" SHORT CRASH 1617 g Unique Bell CLEAN
Original price
$449.99
-
Original price
$449.99
Here's a damn-near-impossible to find Vintage Paiste. And it makes a magnificent Light Ride too. Have a listen. 


This is an excellent example of Paiste's love of experimentation to create new sounds. They invented the Flat Ride, the Sound Edge Hihats, the Flanger Bell. And THIS square bell SHORT CRASH. 


The Famous Vintage Paiste SOUND CREATION 18" Short Crash. And very clean too! 


The squared belled Crash has made a few appearances over the years, the last iteration was as a Signature Crystal Crash, which is very hard to find. Also, the Sound Formula SILK CRASH had a square bell. 


Well, this is the ORIGINAL one! In the highly prized Original Sound Creation. And this one is pretty damn mellow sounding and it makes a killer Light Ride. 


Paiste described this unique wonder as:
"

A fast, short accent-crash cymbal with a quick decay. The attack is fast and direct. The ring disappears swiftly, due to the unique bell shape.

 
The feeling of this cymbal is 'fast, cutting and direct."  


And that's indeed is accurate!  Take a look at the craftsmanship on this 18".



The bell is… 

SQUARE!  


And that creates a quick and more explosive attack that dissipates quickly and remains more control. It's focused and has a mellowness that many Paistes lack.  The lathing is ultra-thin - extremely silky. And the tone is smooth and silky as well. 


Being the coveted Sound Creation this Paiste has the classic Vintage B20 alloy that they used for their Original 602s.  This was their creme de la creme series in the 1970s and early 80s. 


1617 grams. 


Clean. Smooth. Focused. Mellow. A great quick attack that remains controlled and even. Balanced with a distinctive smoothness. Unique. 


Overall very clean for being 40 years old. Light patina. No issues. Extremely Rare.