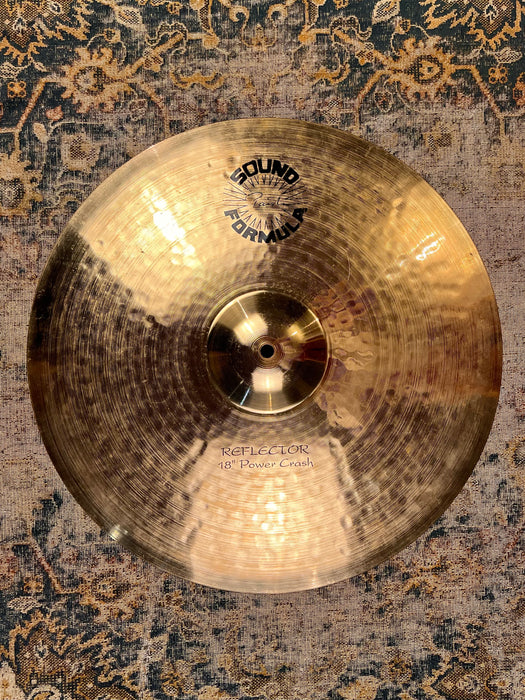 RARE Semi Dark Paiste Orig REFLECTOR SOUND FORMULA Power Crash 18" 1667 g
Original price
$249.99
-
Original price
$249.99
Here's an absolutely killer Paiste!  And it's one that's  very 

hard to find and had been long discontinued.  


It's dark and full and Paiste clean sounding! From 1993!  Very early!  And with that famous shimmering REFLECTOR glassy tone!


The ORIGINAL Round Label Sound Formula REFLECTOR Power Crash 18" in terrific condition. 
 
As many of you may know, this Original Sound Formula looks a hell of a lot like a Paste Signature in terms of the construction, weight and lathing-so much in fact, that apparently they were actually competing with the Signature market and so Paiste ultimately discontinued the series.


And this one is the very rare Reflector - it's darker and has even more of a glassy shimmer to it. 


This beautiful 18" is of course made of the famous Paste Signature B15 Alloy, however the tone is slightly different. Sound Formulas have a slightly GLASSIER tone than their Signature cousin.  


At 1667 grams it fits right into the Paiste Signature POWER CRASH gram weight. And it indeed sounds like a Signature - but with a very nice dark shimmer and projection.


Have a listen! 


Dark. Full. Clean, with that inimitable Paiste smooth and glassy Reflector tone.


Perfect for medium low to loud settings. Amazing shape for being 30 years old. 


Not $440 like the new ones that you have to guess at what they sound like.