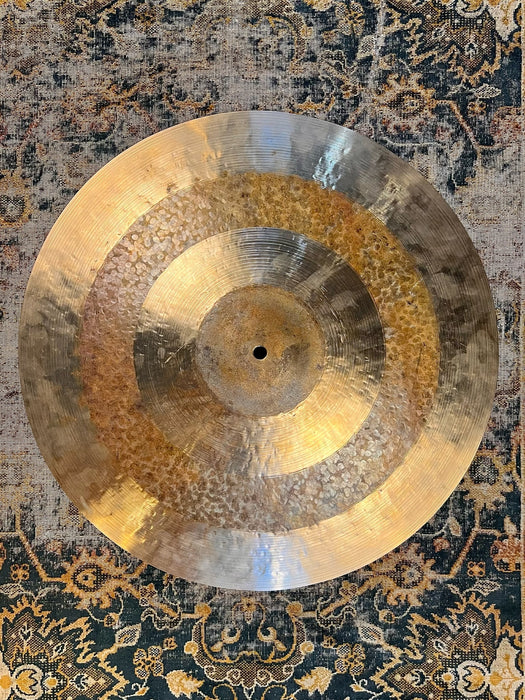 Unique CUSTOM MONGIELLO Sultan Style 19.5" DRY COMPLEX Ride 1701 g
Original price
$449.99
-
Original price
$449.99
Besieged by big box store blight, it's a joy to play a completely hand-crafted instrument:


Unique, Custom 19.5" MONGIELLO Sultan Style Dry Complex Ride with razor thin edges. 


With a mere glance you can tell this 19.5" Half-lathed Custom beauty is one-of-kind, hand made by someone who understands and loves the art of cymbal-making.


The Sultan style pattern is familiar to the eyes, but upon closer inspection you can see a different type of lathing than standard cymbals - this one is extremely fine with deep groove marks. 


Low, raw and unlathed bell gives way to a gradual bowed umbrella-like profile that gives this hand-made cymbal its broad, complex spread.  


At a svelte 1701 grams, this one-off alternate lathing 19 1/2" sounds like its 1953.  Remarkably defined stick attack for such a thin cymbal. Beautiful, breathy wash while the low bell and gradually steeped profile create the perfect elixir of control and hand hammered spread.  


Add thin edges for fantastic response and crashability. 


Crash on it for lightening-like broad accents or lay into it for a wall of complex spread.  


Hand hammered.  Hand made. Handsome. 


As fresh as tomorrow. Sounds like yesteryear.


A unique custom made piece celebrating tradition and innovation.