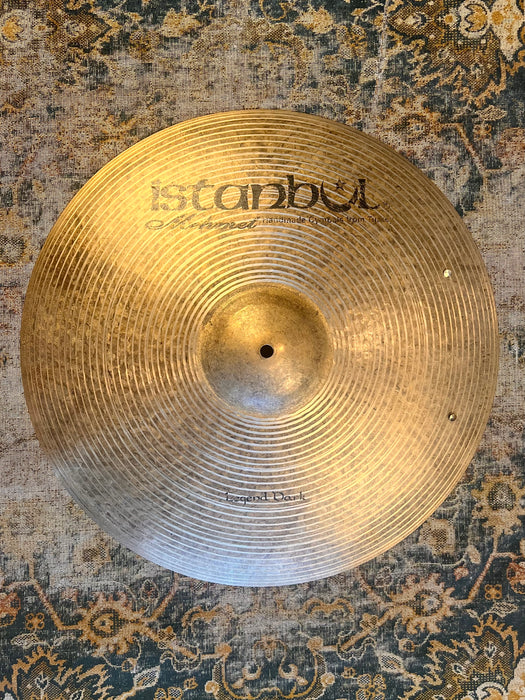 Dry SMOKY Istanbul Mehmet 19" LEGEND DARK Sizzle Ride 1772 g DARK CONTROLLED
Original price
$269.99
-
Original price
$269.99
I can guaranteed happiness! 


This is one of the nicest sounding controlled and mellow dry, smoky 19s" you will hear.  It makes a K Cons play like a Paiste Heavy Ride. 


And hardly anyone actually has this beauty! It's the perfect controlled Main Ride or Left Side Crash Ride. 


This Istanbul sounds like a 70-year-old cymbal.


Istanbul's LEGEND Series (also known as the MEL LEWIS Series) is, well, legendary. 


It has long been one of Agop and Mehmet's best-selling series. It put them on the map 30 years ago.


Mehmet expanded the series and this LEGEND DARK is one of my favorites. As you can see it has a wide-lathed, alternate gold and brown top side - like a Turk mixed with a Traditional, while the underside is fully lathed like a Traditional or regular Legend series.  Very Agop Sig Ish. Or Bosphorus New Orleans but darker.


The result is a stunning, semi-dry stick attack with a smoky, organic, fairly complex wash - but that wash dissipates fairly quickly compliments of the 19" size. 


This cymbal remains controlled and mellow. 


The bell is raw and strong but not brutish. 


At a perfect 1772  grams, this rare 19" is very responsive and easily crashable. It's a Thin to Medium Thin weight. 


Outfitted with 2 Factory Brass rivets for a glorious rain-on-the-roof sizzle. They add a pinch of afterglow. 


Semi-dry to dry. Organic. Dark. Smoky Fairly complex but overall controlled. Medium quick decay. Easily crashable.  All with a subtle light sizzle. 


No issues. Terrific shape with a light patina/use. It's mellowed and feels played-in. One of the finest dark and semi-dry rides you will come across.