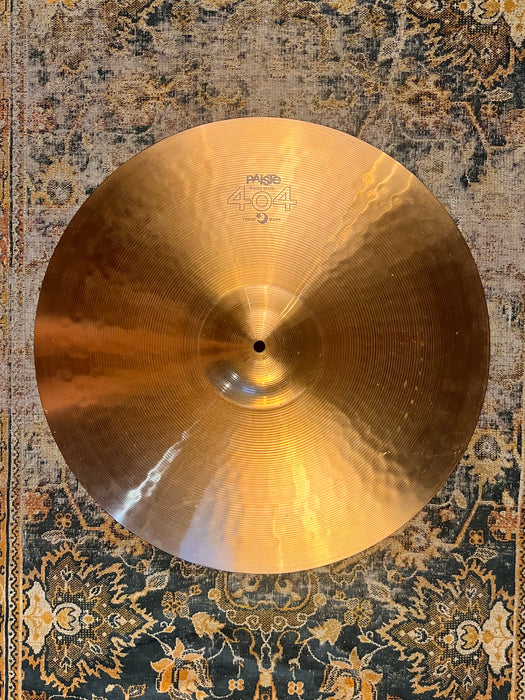 THIN LIGHT Vintage PAISTE 404 20" Ride ONLY 2035 g SUPER Clean
Original price
$249.99
-
Original price
$249.99
Here's one of the cleanest 404s I've ever seen! It's 40 years old. Crazy! 


For many years the 404s were the THINNEST cymbals Paiste offered!! Hell, they're still one of the thinnest series Paiste ever made! 
And if you've been keeping score at home then you know that the Paiste 404s were some of the MOST underrated cymbals they ever made.
 
They appeared not long after the Paiste Giant Beats disappeared! It's true…the 404s run that deep!


And In a devastating blow, Paste treacherously replaced the 404 line with the crappy 502 line decades ago. The two series are not even remotely comparable. The 404 was a great series because in the bright, clear, clean Paiste family tree, the 404 was the welcomed black sheep.
Darker, dirtier, trashier--this Pastes is "From the wrong side of the tracks." The unwelcomed cousin who shows up drunk at the baptism and yells from the back of the church. The same cousin who hits on the bridesmaid right before hurling all over the dance floor at your sister's wedding.


Same Giant Beat alloy, same THIN weight with great response, but surprisingly more complex - a bit dirtier sounding. Which is damn nice because everything Paiste is so fastidiously clean. 


Well, this 20" 404 Ride has a pinch of organic-mess that normally eludes Paistes.


Thin, light, airy, whispy, delicately complex, incredibly responsive. Seven played lightly it still has a nice stick attack one top


Like a dirtier more complex Giant Beat.


At only 2035 grams it can easily be a straight up big 20" crash cymbal.  
Great for very low to medium volume. 


Fantastic Light Ride 20" or Thin Crash Ride. 


Amazing shape! One of the cleanest ones I've ever seen! Looks like it's 4 weeks old. 


Nothing like them in the Paiste catalog today.