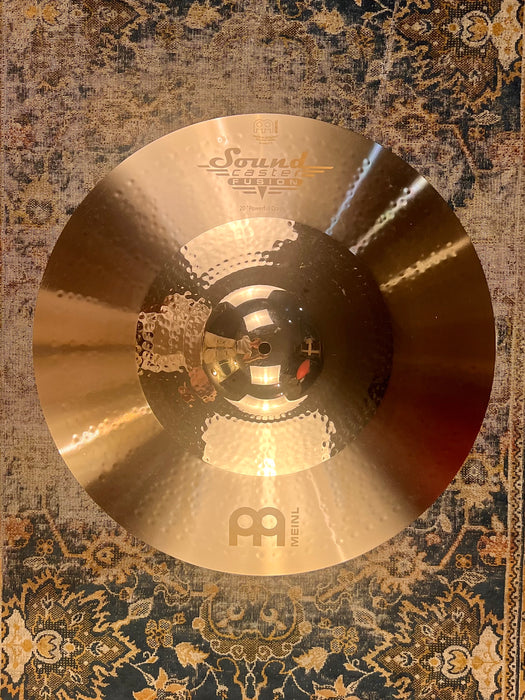 HUGE Discontinued MEINL HYBRID Sound Caster Fusion POWERFUL CRASH 20" 2100 MINT
Original price
$269.99
-
Original price
$269.99
You can't get this Meinl anymore.  And this one is immaculate!  And it sounds fantastic!


While the Byzance Series is renown for its dark and complex, trashy tone, this hard to find Meinl has a warm and very clean tone with a brilliant shimmer! It completely goes the other way.


Have a look at the craftsmanship. Now have a listen. Beautiful. Warm. Clean. A pinch of bright!


And it's the massive 20"!  Gorgeous mix of sonic characteristics.


Here's how Meinl originally described this:
"Enhanced brightness yet retains plenty of warmth while maintaining a wide frequency. Swelling with a long sustain. Suited for powerful accents."


Pure poetry!


Weighing in at a lovely 2100 grams, this Fusion 20" plays like a great medium DARK Hybrid Crash. The tone is dark and overall fairly focused and clean. And the unlathed bell promotes projection, as promised. The pitch is medium low.


You can use this cymbal as a smooth ride as well - the big brilliant bell cuts very well. DING!  


Medium Dark and focused and with a bit of beefed up projection and brilliant that cuts exceptionally well in LIVE.  


But it doesn't clank!  That's the beauty! It's clean and warm! Crashes beautifully.  An ride beautifully too.


And it's perfect. Only played for the video. That's it.  



And you can't get this cymbal anymore.