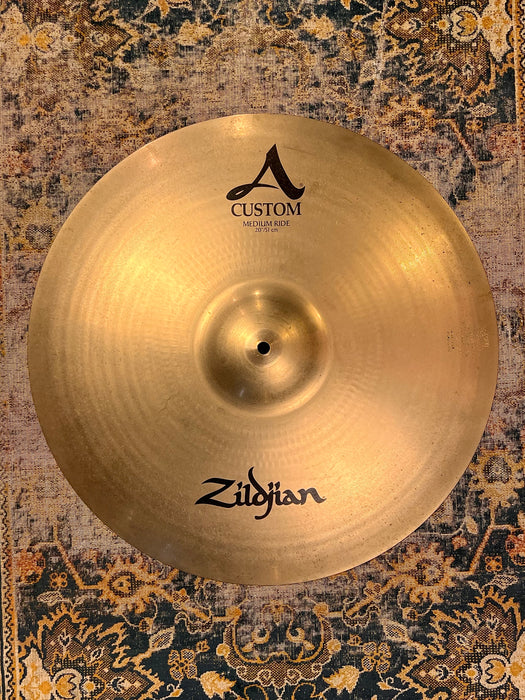 BRILLIANT SHIMMERING Zildjian A CUSTOM 20" MEDIUM Ride 2408 g Don't Pay $390!!
Original price
$199.99
-
Original price
$199.99
Holy living hell!! This Zildjian A Custom costs $390 new! 
I didn't even make that up!  Nearly $400 for a stock photo and a guess at what that Zildjian sounds like. 
But that would be a horrible existence!!  No reason to live that way! 
Listen to this exact Zildjian 20" so you can buy with confidence! 
Zildjian A Custom 20" Medium Ride in fantastic condition! 
Zildjian describes this A Custom Medium as:
"Extremely clear and crisp stick definition and shimmering spread with exceptional cutting power.
A versatile ride cymbal with a sophisticated, clear, and "transparent" sound."
Weighing in at a perfect

2408

grams this Brilliant Finish A Custom 20" Medium Ride plays like (not surprisingly) a Medium Ride. It has all the bright, shimmering, glassy tone that catapulted Zildjian's A Custom Series to stardom last decade. This 20" has a great attack followed by a shimmering medium full wash that will cut straight to the back wall. And the bell is piercing.
This one is thinner and darker than most so it has a great amount of body and makes one hell of a nice Full Crash Ride when you lay into it! 
This is one of Zildjian's most popular straight up ride cymbals. It's a great, versatile Zildjian! 
But that doesn't mean you need to throw down $400 for it!  Far from in in fact. 
No issues.  Strong logos.  Great shape with a light natural patina that mellows it.