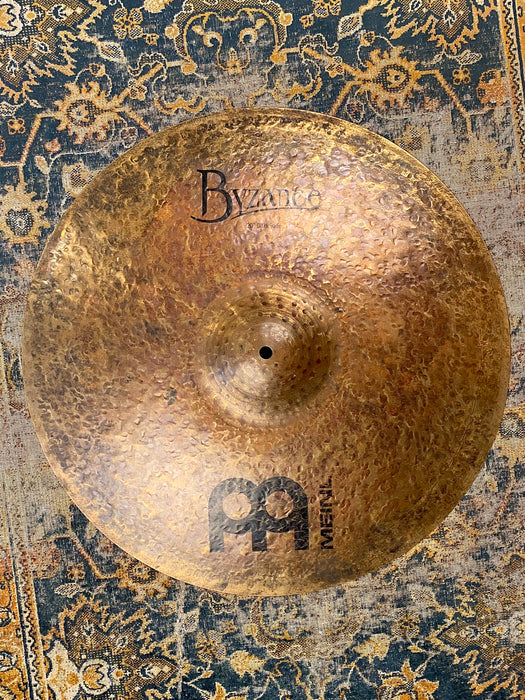 Dark Dry RAW Meinl BYZANCE DARK Ride 20" 2712 g PERFECT
Original price
$369.99
-
Original price
$369.99
Beautiful brown/sienna hues comprise this Hand Hammered RAW top of the line Meinl that costs just under $500 new.


But just because it costs that much doesn't mean you need to SPEND that much.  And you can hear the exact cymbal you're going to get too!



I have right here, this amazing condition Meinl Byzance DARK Ride 20" 

and it sounds amazing.


Meinl described this cymbal as:


"

 Low frequency range with esoteric character due to the untreated finish. Dark, earthy, with a short sustain and a defined ping and bell."  


Well there ya go!  I gotta say, they nailed it! 


The craftsmanship is stunning! Deep, Heavy Hand Hammering with an unlathed, deep sienna reddish brown brushed finish! Raw appearance with an earthen tone. DARK and DRY sounding.



As you would imagine the stick attack is phenomenal. The Hand Hammered bell measures 6.5" and cuts superbly. The profile is fairly low giving this massive 20" 

a lower pitch and darker colors. 


2712 grams. Sounds great from a whisper to a roar. The dryness and articulation translates at low volumes and the bell and weight ensure a strong projecting attack. 


Generous bell and playing field - like a K Custom but actually DARK and Hand Hammered.


Dry but not at all dead.  That Hand Hammering offers a shadow of complexity. 


Penetrates a mix with ease without sounding high pitched and grating. Remains dark.  


Perfect for any genre of music. Great live and in the studio.


Amazing condition. And not $500 for a stock photo guess.   


Particularly beautiful deep color on this one.