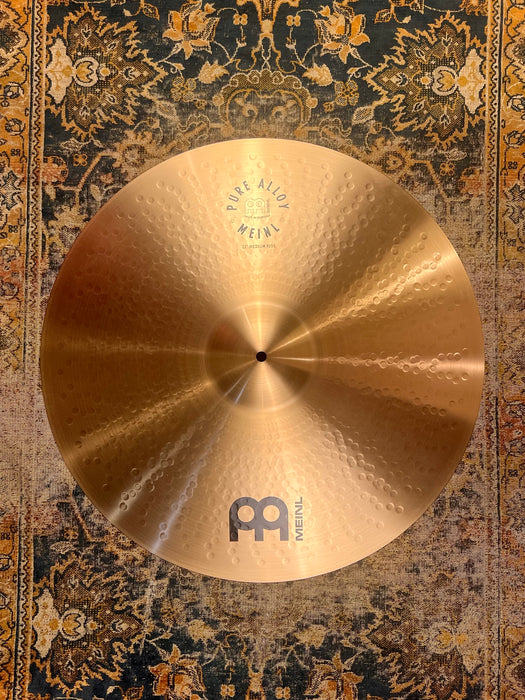 Immaculate DARK Meinl PURE ALLOY 22" Medium Ride 2738 g MINT IN BAG
Original price
$299.99
-
Original price
$299.99
Why the hell spend $400 on a Meinl 22" 

Ride that you can't even hear first?  That would suck!  


Behold!  Listen to your heart's content! And you need not sacrifice condition - this Meinl in Immaculate in the bag. 



Meinl Pure Alloy Medium Ride in the generous 22" s

ize!  



Weighing in at a lovely 2738 grams this Meinl plays like a great Medium Thin to Medium Ride 

Or Dark Crash Ride. It can be either. 



The tone is very dark with a chime-like 

glassy shimmer. Fantastic straight up stick attack that is deep, dark, low pitched and clean sounding. 



 And it's responsive at lower level volumes--compliments of the medium thin weight. Sounds beautiful with mallets as well.

 Again. This is a very dark cymbal that can crash. 


Very Dark. FULL when laid in to. Low Pitched. Glassy shimmering stick definition. Medium to Very LUSH when crashed. Still responsive at medium low volumes.


Meinl Describes this cymbal as:
"Pure Alloy cymbals sonically bridge the gap between the darker Byzance and brighter Classics Custom lines. They're shimmering, smooth sc cut with agility and have a full range of tonality with medium sustain making them perfect for all dynamic levels."


My word that is sexy!! 


Perfect from soft to loud.  



No issues. Immaculate in the bag. Only played for the video.  That's it.  Have a listen and buy with confidence!