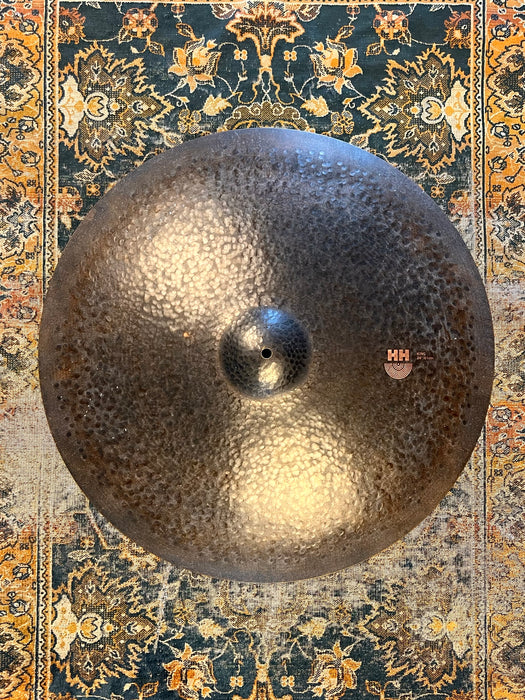 HUGE VERY DRY Sabian Hand Hammered HH KING 24" 2790 g CLEAN
Original price
$399.99
-
Original price
$399.99
This is a gorgeous 2 foot VERY DRY Ride. One of the driest rides you will hear - and in the harder to find 24"! 


No need to spend $570 on a new Sabian HH 24" King Ride that's going to look and sound exactly like this beauty right here! 


And while they are BIG only a shallow philistine would call these things ugly. I guess if you're used to a world where lathed Sweet Rides and AAXs dominate then an HEAVILY HAMMERED 24" like this may appear to have fallen out of the ugly tree in one's eyes. 


This particular one has a gorgeous deep and dark sienna hue. It's wonderfully DRY, I mean SUPER DRY - with a very light and breathy, airy wash that dissipates quickly.


Yes.  A 2 foot very, very Dry Ride. 


As you can see this cymbal is extremely heavily hand hammered and unlathed and raw giving it a dark, dry attack. A very smoky tone, reminiscent of the Agop Turk Ride but with a bit more stick articulation. 


Fully lathed underside supplies a hint of breathiness and body underneath a very controlled attack. 


Here's what Sabian has to say about this King Ride:
"

The 24" Sabian Big & Ugly HH King Ride Cymbal has just right amount of dry, dark, and wash. Powerful and sophisticated, it may be the most complex cymbal of the collection because depending how you strike it, it can be so many things. Big & Ugly is a collection of unique Ride cymbals from Sabian. They are big, dark, loose and dynamic but most importantly, they are fun to play. Although the collection contains cymbals that span multiple Sabian cymbal series, they are all united by their great complexity, versatility and distinctive appearance.

"


2790 grams. Ultra Dark. Dry. Terrific attack. Great response. controlled. Fantastic stick definition. The best you will hear.  


Easily crashable. Plays like a very fast HUGE 24" Dry Crash when laid into.  Hits them quits! 
  
And this would be an excellent choice for rivets if you're so inclined.


Opens up at just a whisper. Roars when crashed upon.  


Amazing shape.  A gorgeous crashable Dry Dark Hand Hammered 24" with a very quick decay.