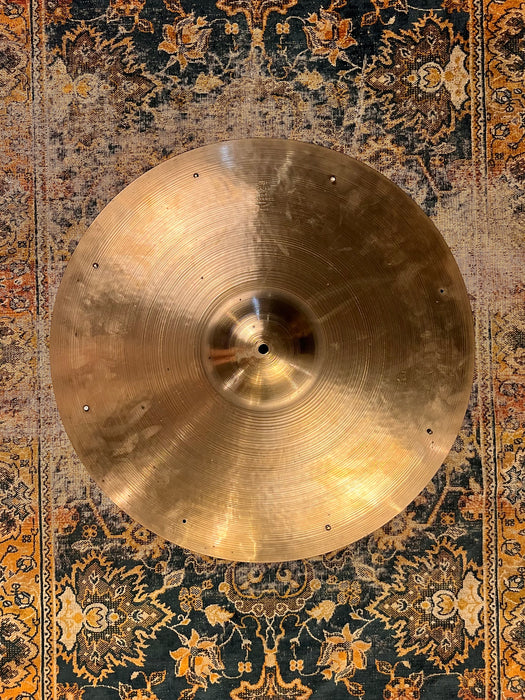 Great Definition DARK Vintage Zildjian 1960s Sizzle Ride 22" 2796 g Warm
Original price
$439.99
-
Original price
$439.99
Here's a fantastic-sounding, hard-to-find 60-year-old Vintage Zildjian  Sizzle Ride that blends strong attack with a dark glowing warmth. Sounds like right off a 1958 Columbia Jazz Recording.  
The low profile lends a wonderful dark and lower pitch to this 22". It's absolutely stunning. 


Terrific 60s style stick-attack, it can easily be your main Ride like many Jazz and Classic Rock recordings from the 50s and 60s that also had sizzles. 


The straight-up definition is great but it's not o early dry. 


Much of that great attack is compliments of the

 2796 gram

 weight - which gives this Sizzle a Medium quality, that is how it plays, but with the subtle glow of 5 rivets. 


Being the larger 22", it's darker and lower-pitched than its 20" brothers.  And the playing field is generous and the bell piercing. 


Primed for 8 rivets in the classic Vintage configuration. Currently delivering a wonderful light and airy tone with 5 Old School rivets.  


The great attack cuts through a mix quite well.  Stunning, glowing warm 1960s Zildjian A tone followed by the light glow of rivets. 


Extremely clean for being 60 years old with a beautiful natural golden patina. 


This is the REAL DEAL tone. Don't pay more money for the "vintage vibe" stuff. 


It's more inspiring to play the original.  



A dark 22" Early 1960s Sizzle. It's what music was made on.