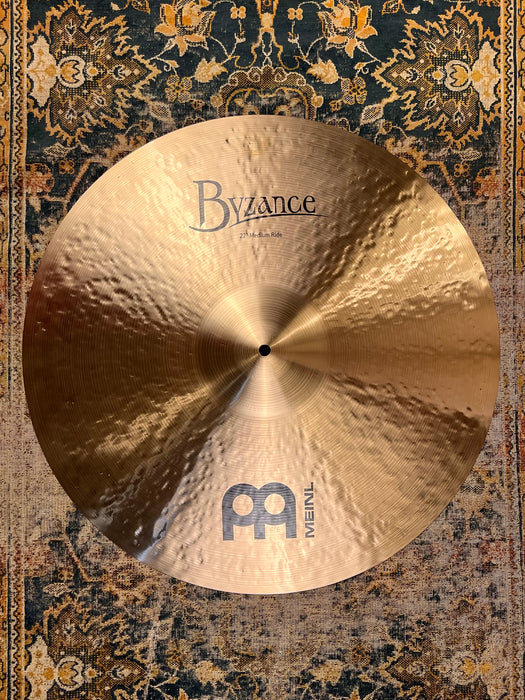 Perfect IN BAG MEINL BYZANCE 22" MEDIUM RIDE 3012 g WHY Pay $560
Original price
$399.99
-
Original price
$399.99
$560!!! That's how much a new Meinl Byzance 22" will cost you!  And I can't say it's not worth it because it's one of the most all-around versatile Ride Cymbals there is. 


But just because it's costs $560 doesn't mean you have to spend $560!!! And you need not sacrifice tone nor condition! And you don't have to guess what it sounds like either with that big box store photo. 


Never guess chez hazelshould!  Have a listen so that you can buy with confidence! 


Immaculate condition Meinl BYZANCE 22" Medium Ride in a classically warm Traditional Finish. 


Here is how Meinl describes this cymbal:
"Balanced, controllable stick response with a defined ping and a blend of bright overtones. Warm basic sound with medium sustain and bell."


However, this specific 22" has some darkness mixed in there as well - have a listen.


The HAND HAMMERED tone is exceptionally warm and medium to medium-low pitched. This particular 22" has all the warm leanings of Meinl's Hand Hammered cymbals, the stick definition is STRONG and articulated quite well--it has a chime-like smooth tone.


The wash is medium full but still allows the stick attack to breathe. AND (and this is what I really dig,) the tone is not nearly as harsh or bright as a modern Zildian Ride. This Byzance is considerably SMOOTHER sounding than Zildjians. The overtones are more pleasing, and it's not grating or annoyingly high-pitched.


The bell, of course, is STRONG AND POWERFUL. It'll cut through even in heavy rock.


If you crash/ride on it, all hell breaks lose. This 22" yields a MASSIVE Crash Ride FULL vibe! A la Dave Grohl.


Perfect for soft to loud settings - a workhorse cymbal! 


And for $560 Meinl thinks so too. 


But you can save that hard won money - and listen to the exact cymbal you're getting. It's a beauty! 



Immaculate.  No issues at all. Only played for the video and that's it.