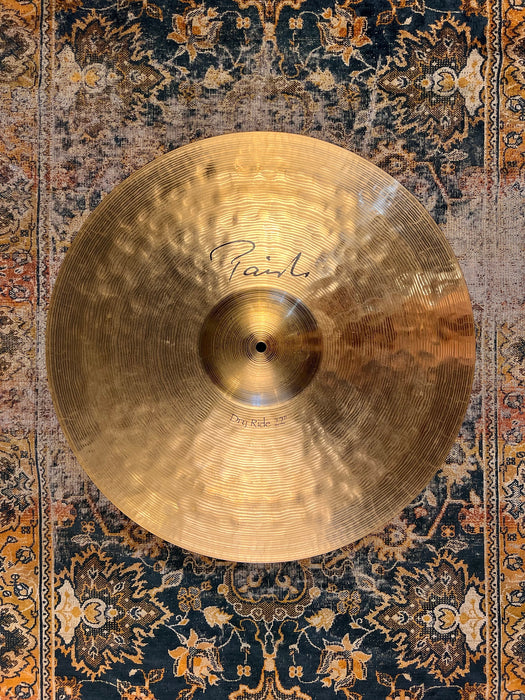 LEAD A SIMPLER LIFE! RARE Discontinued EARLY PAISTE SIGNATURE 22" DRY RIDE 3324 g
Original price
$379.99
-
Original price
$379.99
The Dry Crisp?  No.


The Dry Heavy? No.


The Dark Dry?  No.


Simply: THE DRY RIDE!


Marie Kondo cleaning up your life monikers?!! Well, this cymbal does spark joy!!


It's of a simpler life!!  


From the very first years of the Paiste SIGNATURE Series. 1993 Super clean - especially for being 30 years old!!  


This is the VERY EARLY and VERY RARE and no longer made, Paiste Signature 22" DRY RIDE. And of all the fully lathed Signatures family, why yes, this one DOES have a punctuated and articulate attack.


The 20s" are rare.  The 22" is nearly impossible to find. And the Early Signatures have different hammering and craftsmanship to them. 


Weighing a lovely 3324 grams this Dry Ride is heavier than many Sigs, but not as tipping-the-Metal-scales at the Dry Heavy Ride which can be overkill outside of Heavy Rock and Metal.


This Dry Ride is much more balanced and even sounding.


Inimitable CLEAN, clear, CRISP Paiste Signature tone with a penetrating 6" bell that cuts but is not overbearing.


And….this 22" indeed is more focused and controlled than many of its brethren. Being the largest size it's darker and lower pitched than the 20" and generally has more body and complexity.  It's gorgeous. 


And this is not that half-assed Signature Precision corner-cutting intermediate nonsense.   This is the REAL Signature.


Extremely CLEAN. Light use. No longer made.  A great CLEAN AND CRISP-sounding and looking Top of the Line  Paiste.



Very hard to find.