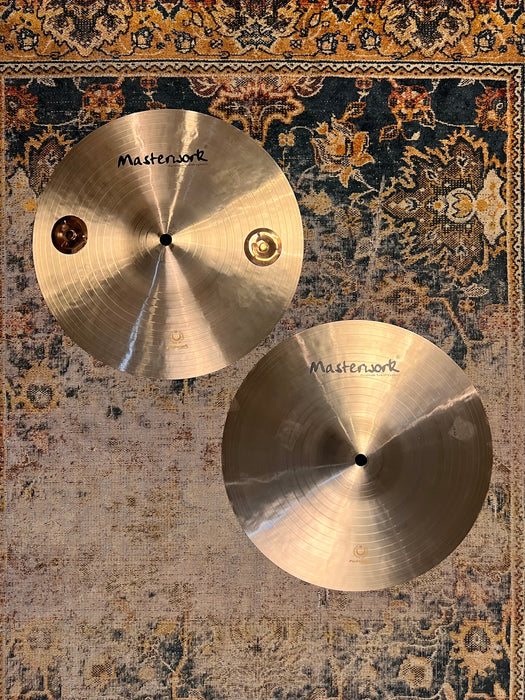 12" Prototype Masterwork SPLASH Hi Hats w Tambourine Jingles 354 408 g FAST
Original price
$219.99
-
Original price
$219.99
Imagine REMIX Hi Hats….BUT paper thin and heavily Hand Hammered.


I know!! It's blown my mind!! 


But here we are!!  These things sound amazing!


Fully lathed Masterwork 12" Jazz Master MICRO SPLASH Hi Hats in immaculate condition with factory copper jingles. 


The closest thing to these gems would be the long discontinued Zildjian REMIX HI HATS.  But these are much faster and responsive and thinner! 


QUICK 12" Hand Hammered golden lathed Masterwork Jazz Master 12" Splash HATS but with the unique, light sizzle of a tambourine! 


Like Sabian HH Nano Hats but warmer and 3" larger with sizzles,  and not $380. 


As you would imagine these 12" Jazz Masters deliver a wonderfully TIGHT, warm, responsive and quick Hi Hat tone.  Being 12s"  they are higher pitched than your standard Hi Hat and are very fast in response and decay/wash. 


Super tight when closed, open them for rapid, cutting accents. 


Now add the light sizzle of 2 Factory Copper Split Rivets and you have a pair of unique hats! 


At 354 and 408 grams, they have the thinner Top Heavier Bottom philosophy for a great chic but overall they are both THIN! 


And yes you can splash them beautifully with your foot, light and mellow sizzle. 


Of course, they can be used individually as splash/cymbals/effects/stackers - play them top-up or bottom-up. Experiment with them. 


Split tambourine rivets can be taken out and out back in. 


X Hats. Mini hats. Or main hats for smaller gigs and recordings. Perfect for percussion setups. 


There's nothing like these FAST 12" Jazz Master Prototypes with Tambourine Jingles out there.


New condition.  A lot of fun to play.