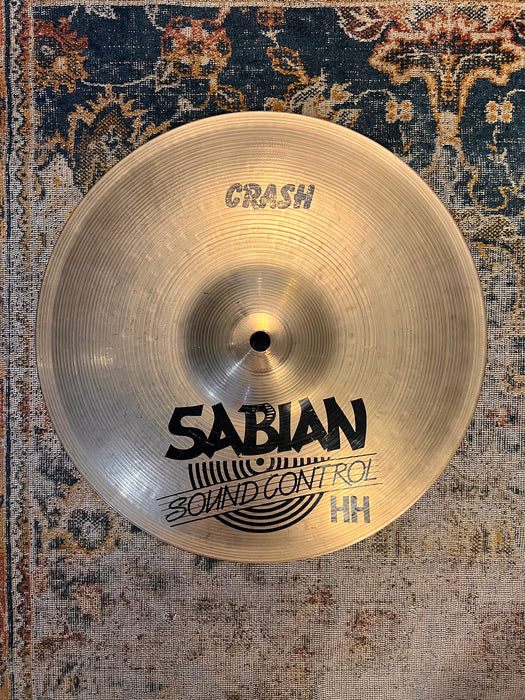 RARE SUPER MELLOW Sabian HH SOUND CONTROL 12" FLANGED Crash 417 g
Original price
$239.99
-
Original price
$239.99
How much does a Sabian HH 12" Sound Control Crash cost these days? Who the hell knows??? Good luck finding one! 


I have seen three of these in my life.  And you're looking at one of them.  


But I'm here to shed a beacon of hope far and wide for HH lovers!!!


And this beauty is a Brilliant a finish too.  


Although it's a 12", it's actually stamped "CRASH. And it makes a magnificent FAST CRASH. 


Very Rare Vintage Sabian HH Hand Hammered SOUND CONTROL 12" Crash weighing in at a very thin 417 grams. The edges are easily bendable.  


Sabian described this cymbal as:


"Thin, flanged edge increases sensitivity and response rate, for fast, very glassy, splash-like sounds."


With a feather weight of 417 grams, this 12" Sound Control is bendable and plays soft. The tone is dark, the pitch is very LOW for a 12". 


Extremely warm and MELLOW, the sustain is quick - like a Fast Crash. 


 As you may know, what makes the Sound Control  Series unique is that the outer 1/2 inch of the cymbal is slightly flanged upwards and thus provides a controlled wash and a controlled volume.


The end result is this Sabian 12" will not get away from you volume-wise. it remains mellow and responsive, especially at moderate volumes.  


This is a gorgeous DARK and warm small crash or Fast Crash cymbal that is not over powering or shrill and clanky.


No issues. Great light patina. Amazing shape - it's 40 years old and sounds incredible. 



Damn near impossible to find.