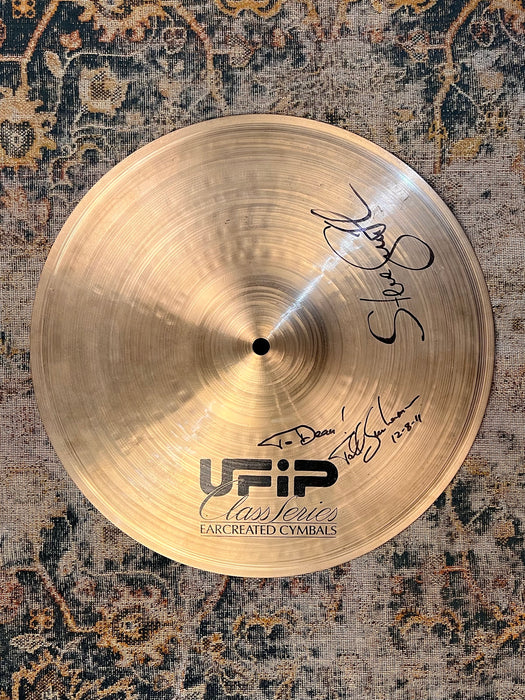 Rare AUTOGRAPHED UFIP CLASS SOUND CONTROL Crash 14" 700 g Steve Smith Todd Sucherman
Original price
$229.99
-
Original price
$229.99
Here's a unique piece! A rare UFIP autographed by drumming greats Steve Smith and Todd Sucherman! 


  And it's almost impossible to find this - hell I've never seen another in this 14" size.  
A Thin UFIP Class Series Crash with a SOUND CONTROL style edge - for a much darker and beautifully mellow tone.


It's almost a pinch Pang-like.  Just a bit.


As many of you may know the Class Series is UFIP's most famous line.


And this particular beauty THIN and is extremely clean. It's soft and exceptionally dark and mellow.  


Weighing in at a svelte 700 grams this UFIP plays like an amazing 14" Thin MELLOW Crash.


The tone is slightly DARK with a great spread and a fairly COMPLEX wash but the flanges edge does give it a bit of control.  


Being the Class Series, this 14" has an incredible, GLOWING warm tone. And at only 700 grams it is definitely responsive.


The Flanged Sound Control styled edge gives this 14" a lower pitch, slightly more focused and mellow tone.


It's like a Mellow Paper thin Crash with a bit of Pang in there.


Perfect for low to medium loud volumes.  Doubles as a fantastic Hihat Top or Bottom cymbal. Especially with the flanged edge! 


No issues. Extremely Clean. Very hard to find. Especially with the Flanged Edge.



And autographed by two legends of drumming!