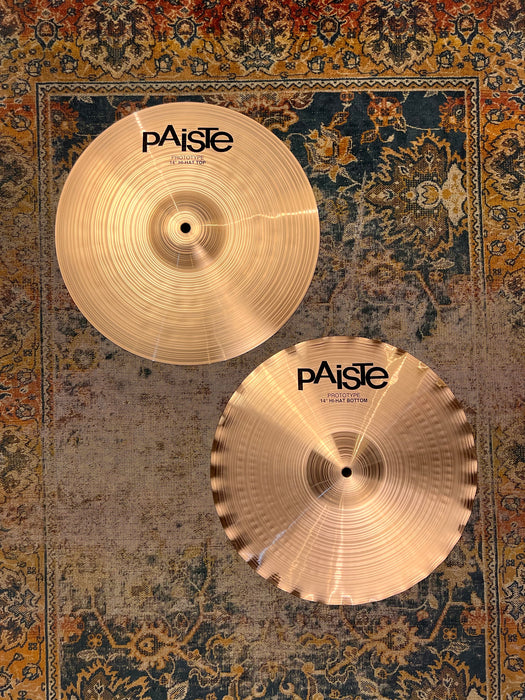 Unique HIGH BELL Paiste PROTOTYPE COMPLEX 2002 SOUND EDGE Hihats 14" 834 1047 g MINT
Original price
$349.99
-
Original price
$349.99
Damn!! Look at these!!  A pair of HIGH BELL Paiste 2002 PROTOTYPE Sound Edge Hihats. 


Crazy!  The bell on the top cymbal is much higher and more rounded over/circular than the standard hihats. And that no doubt contributes to the more light and airy COMPLEX tone on these Paistes. 


Have a look. Better yet, have a listen!


Classic crisp, clean sounding 2002 SOUND EDGE 14" Hihats BUT with a lighter more complex vibe. 


Yes indeed! Light sounding Sound Edge Prototypes! Gorgeous hammering and lathing with the famous scalloped edge bottom cymbal.


834 and 1047 grams gives these beauties a THINNER 2002 tone and feel.  


They are much more responsive than the standard big box store regular 2002s Hihats and they have a lighter tone but they still have than famous fastidiously CLEAN 2002 tone and renown Sound Edge CRUNCH!


They open faster and easier and they sing at lower volume settings but still pack plenty of punch in medium loud situations.


Perfect for session work and recording where you want that clean 2002 tone but don't want to overpower!


No issues. Immaculate condition. And only played for the video. That's it!


Not big box store fodder. Rare Paiste Prototypes that you can't get.  


But here you can!!