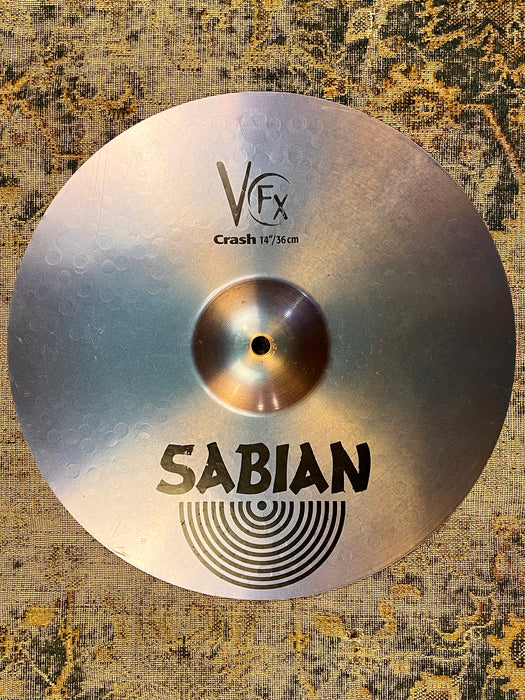 RARE DISCONTINUED Sabian Tony Verderosa VFX 14" Crash 856 g
Original price
$249.99
-
Original price
$249.99
Well here's a rara avis. And this Signature Sabian has been DISCONTINUED for years!! And from what I've read, Sabian act cannot make this cymbal anymore because the special coating process is no longer available.


Rare and oh-so-multi-colored Sabian Tony Verderosa Signature VFX CRASH 14" that is in great shape.  


The profile on this 14" actually slopes upward a bit, it almost looks slightly inverted, but that is natural factory profile. Super LOW.  


The flatter shape give it a chime-like attack, and that very low profile controls the overtones beautifully and gives it a dark and low pitch.  


Back in the day, Sabian described their VFX Series as:
"SABIAN is pleased to announce that its creative collaboration with electro acoustic percussion specialist and producer Tony Verderosa has resulted in V-FX, a range of innovative cymbals and sounds for players of electronic and loop-based music, including Drum 'n' Bass, Hip-Hop, TripHop, Industrial and more. Also ideal for forward-thinking Latin, Funk, Rock and Fusion players."


Weighing in at a trippy 856 grams this VFX Crash plays like no cymbal I've ever seen...or heard. It plays like an extremely low pitched Thin or medium Thin Crash effects..or mellow bell! The tone is FOCUSED--and extremely DRY.


This VFX cymbal actually makes an amazing small Flat Ride The stick definition on top is great. It's really an effects cymbal/ Chime like, low pitched, VERY MELLOW!


Makes a unique stacker too.


AND Iridescent!


Perfect for very low to medium loud settings.  It's meant to be experimented with.  There's no wrong application - that was the whole concept - to make something unique.  


No issues.  Light wear.  



Nearly impossible to find - especially here!!