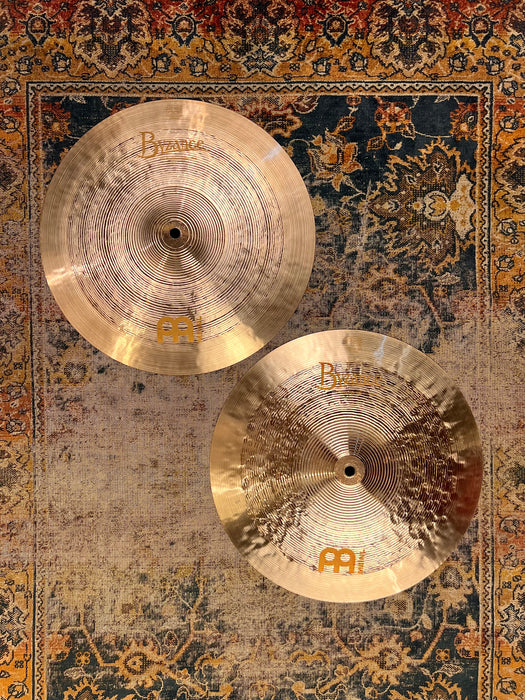 Super Complex Meinl BYZANCE JAZZ TRADITION Hihats 14" 910 1022 g IMMACULATE IN BAG
Original price
$399.99
-
Original price
$399.99
Some of the most COMPLEX sounding Hihats you will hear, and they are immaculate and in the bag perfect! 


No need to throw down $600 on a stock photo guess! 


MEINL Byzance JAZZ Tradition 14" Hihats.  


These particular Byzance Jazz Traditions are exceptionally complex-sounding - even for Meinl.  


Very Light and airy sounding - VINTAGE meets modern tone. 


Meinl describes these hihats as: 
"Lightweight hihat with a defined stick response, complex sound character, and a smooth chick. Blends well with other cymbals and has a comfortable feel.
Scattered lathing pattern — the top surface of the cymbals features spaced-out lathing patterns that expose the raw B20 for a hint of dry articulation — the narrow band of area near the edge is fully lathed to smooth out the sound and feel.
Steep bow — Byzance Jazz Tradition cymbals are easily identified by their steep bow, which gives the cymbals an echo-y dark sound in the middle to higher frequency range — the steep bow shape also enhances stick." 

And that indeed is accurate. 

As you can see the inner 12" has an alternate gold/brown wide lathing while the outer 2"  are golden and fully lathed. The underside is fully lathed for added warmth. 


The profile is very steep and umbrella-shaped which contributes to its very complex nature. 


At 

910

 and 

1022

 grams, they play like Light to Medium Light Hihats and are very responsive. 


They've come alive with the slightest brush of a stick.  The complexity gives them an added lightness and delicate tone and response. 


As promised. Perfect for very low to medium loud settings. 



Immaculate shape. In the bag.