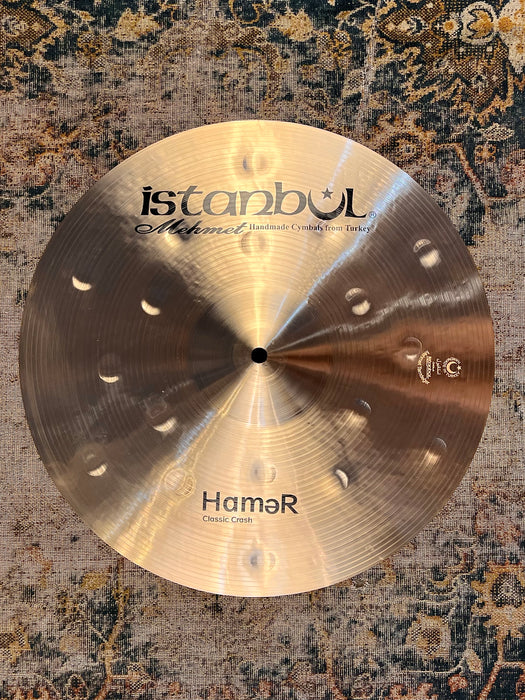 ULTRA DARK COMPLEX ISTANBUL Mehmet Hamer 16" CRASH 954 g PERFECT
Original price
$219.99
-
Original price
$219.99
Here's an absolutely beautiful Complex FAST CRASH. 


Truly Hand Hammered. And you can tell - this is much more complex than any Zildjian could dream to be. And it's not $350 like a Meinl Byzance. 


Istanbul Mehmet Hamer Series Classic 16" Crash in immaculate condition. 


A dark, paper thin - beautiful hammering, and the edges blur subtly when struck.   


Mehmet describes this Hamer Classic Crash as:
"Big hammer marks for a trashy effect in addition to the dark and warm traditional Turkish cymbal sound on all Hamer models."


Weighing in at a gloriously THIN 954 grams this Mehmet plays like an ultra dark very complex 16" Fast Crash. 



The tone is very much like a fast Zildjian Crash of Doom! 

It's actually THAT complex sounding and it's wonderfully LOW PITCHED!  


The craftsmanship is gorgeous - as you can see there is very deep. BIG hammer marks all over the surface!  


 Exceptionally responsive. Played-in vibe even though it's NEW looking. 


Soft, quick response that opens up with even the lightest touch. Very fast decay.  


Perfect for low to medium loud volumes.  



Only played for the video.  Perfect. A stunning truly Dark Complex 16" Fast Crash that's very hard to find.