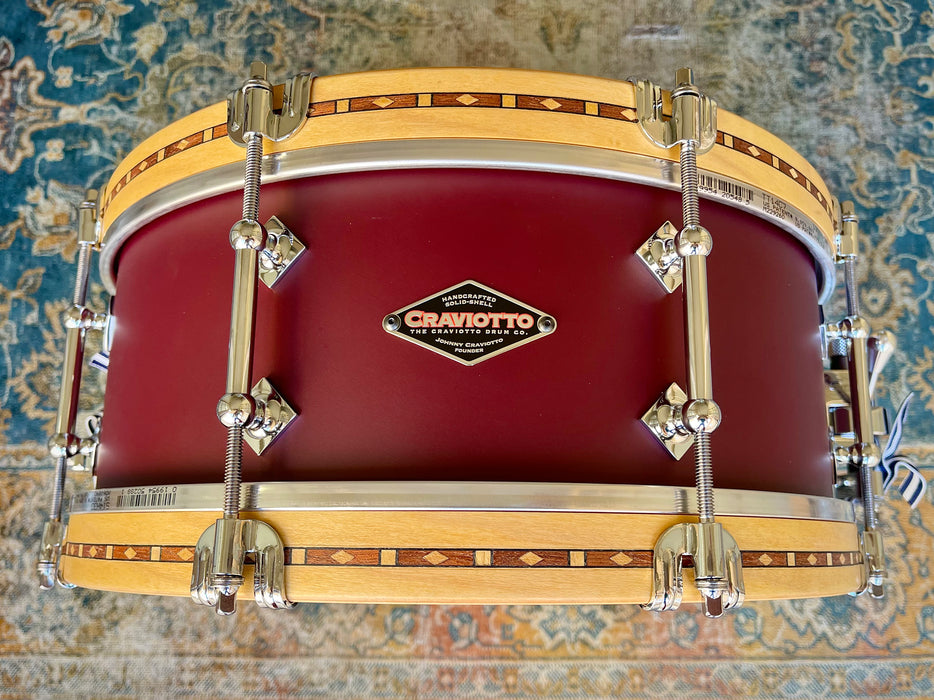 UNIQUE Custom Craviotto Solid Maple Snare w Inlay Wood Hoops 5.5" X 14" Maroon
Original price
$1,799.99
-
Original price
$1,799.99
Here's an insanely beautiful Custom Craviotto Snare - the only one there is like this.  


Super old school Vintage look, set up and tone on this one!


Several features make this one-off Solid Craviotto special:


Solid Maple Custom Craviotto with an open, vintage 8 Lug configuration, stunning factory Maple Hoops on top and bottom festooned with Mahogany Diamond inlay all around the hoops. Vintage style Clips on the Hoops


30 degree Vintage bearing edges for a super round, buttery, throaty, fat tone


Craviotto Trick Throwoff works perfectly.


Amazing Custom Maroon Matte Lacquer Finish - I've never seen anything like this! It's a deep, dark maroon but in a soft matte finish. Looks velvety vintage. Like it's 1942.


Craviotto Diamond stamp and "Made In USA" badge on the inside of shell.


Evans heads are perfect with the top head being a '56 Calftone for a super old school Rolling Bomber type sound.



Immaculate condition. Perfect! Collectible. You won't find this drum anywhere else. It's the only one.