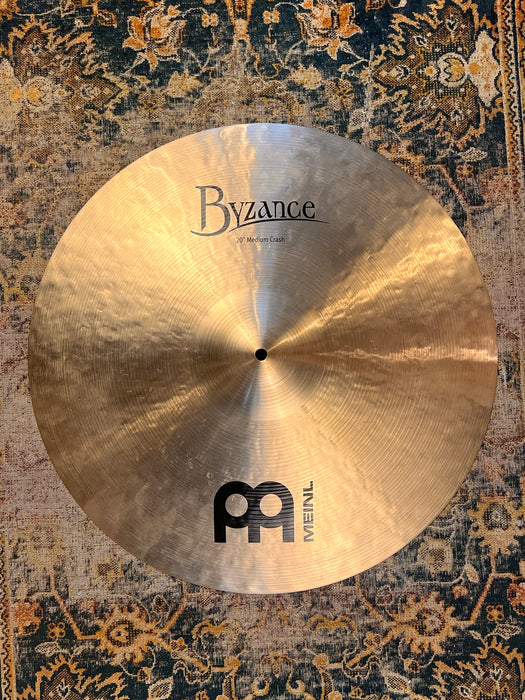 Glorious Warm Dark Meinl BYZANCE Medium Crash 20" 1913 g CLEAN Don't Pay $460!
Original price
$339.99
-
Original price
$339.99
An incredibly versatile hand hammered 20" right here, big crash, light warm ride, crash ride. It does a lot. And it's in amazing condition! 


And you don't have to blow $460 on a guess at what it sounds like!  Have a listen to this exact cymbal.  It's warm, dark and full. 


Meinl Byzance 20" Hand Hammered Medium Crash weighing a wonderfully thinner 1913 grams. No wonder it's so dark and responsive.  


Here's what Meinl has to say about this beauty:
"Traditional, warm sound in an extremely wide dynamic spectrum. Energetic, exploding attack and a louder response."


And that is certainly accurate, but I would emphasize the word "Warm"!


The tone is exceptionally lush, semi-dark, and medium-low pitched. What I specifically dig about this 20" is that it has all the warm dark leanings of Meinl's Hand Hammered Series, however, being a "Medium Crash," the projection is fantastic when you really unleash upon it. It has several gears. 


The Wash is strong. BUT (and this is what I really dig,) the tone is not nearly as harsh or bright some modern Zildjian Crashes can be. This Byzance is considerably SMOOTHER sounding. The overtones are more pleasing, and it's not grating or annoyingly high-pitched.


Gorgeous light Hand Hammered complexity you simply can't get from a machine-made Zildjian. 


An exceptionally beautiful 20" that can easily double as a smooth Light Ride. So lush it sings with mallets.  


Full. Dark. Fully Hand Hammered complex wash. Fantastic projection for a darker and thinner cymbal. Super WARM. Fantastic Condition!


Don't throw darts at a stock photo for $460 Listen how versatile this one is!  And it's clean as hell!