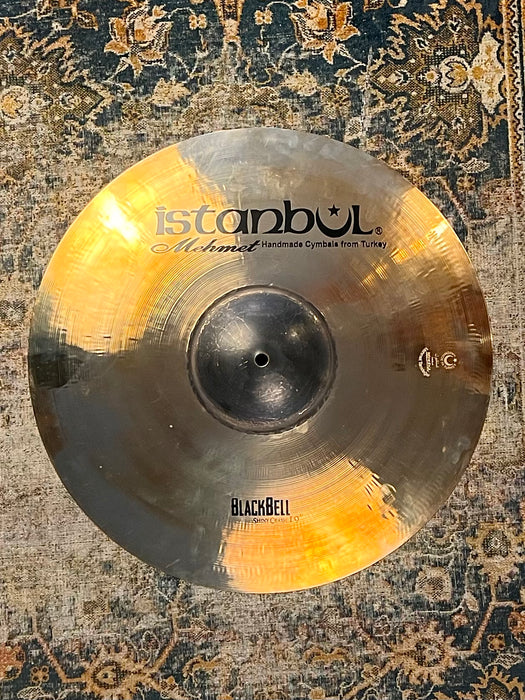 SHIMMERING DARK ISTANBUL Mehmet Black Bell Crash 19" 1551 g CLEAN Gorgeous
Original price
$259.99
-
Original price
$259.99
One of the nicest Dark Crashes you'll hear! 
Here's an hard to find very DARK sounding, SHIMMERING BRILLIANT Finish Istanbul Thin Crash 19" that has a rich fullness to it - like a Hand Hammered, darker A Custom but with a raw bell.  


Istanbul Mehmet Brilliant Black Bell 19" Crash in fantastic condition. Overall super clean. 
Check out the super fine lathing on this beauty! And with a raw, unlathed "Black Bell" that gives it a bit more cutting attack. So shiny you can shave in it. 


It's like an 80s Brilliant K or earlier A Custom but being actually Hand Hammered it's even a bit more complex and full. 


And this particular one is DARK and lower pitched. 


Weighing in at wonderfully thin 1551 grams, this rare 19" plays like a Thin to Medium Thin Full Very Dark Crash. 


What I really dig about this 19" is that it it has a rich warmth to it but also has a gorgeous SHIMMER that cuts through magnificently.  And being the larger 19" size it's lower and darker with a rich fullness. 


As many of you may know the Raw Bell gives this 19" a pinch more projection than a 19" with a fully lathed bell. And that is noticeable in this particular Black Bell. But at only 1551 grams it doesn't clank. It still has slightly bendable edges. 


Very Dark. Medium low to low in pitch. Clean shimmering wash that percolates but remains controlled with a light touch. FULL CRASH when laid into. Subtle Hand Hammered complexity. Incredibly musical.


If you have a light touch you can use this larger 19" crash as a Light Left Side Crash Ride too. It is more controlled than some of the super complex sounding Istanbuls.


No issues. Light patina. Great shape! 


 A very hard cymbal to find. Have a listen do you can buy with confidence.