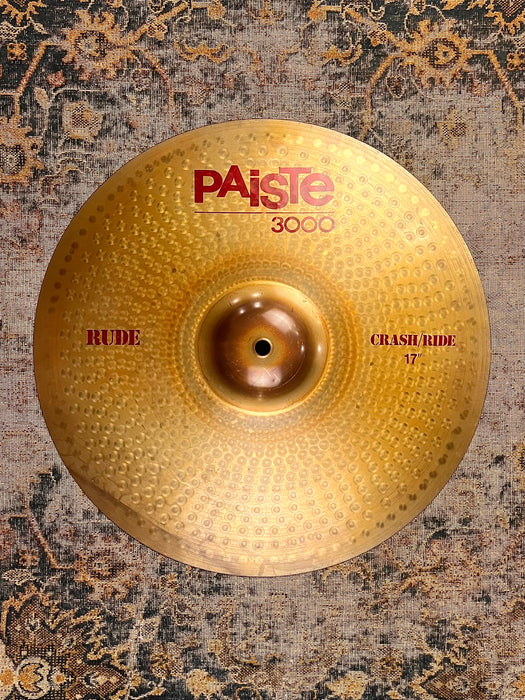 Rare NOS Red Label Paiste 3000 RUDE 17" Crash Ride 1577 g PERFECT FULL
Original price
$279.99
-
Original price
$279.99
It worked for Dave Lombardo!! And many, many others! 


This is the cleanest RUDE 3000 I have ever seen - it's like a Time Machine to the 1980s! 
The elusive RED LABEL PAISTE 3000 RUDE and in damn near perfect condition! 


In a FULL and DARK DAMN NEAR IMPOSSIBLE TO FIND 17" Crash Ride!


None of this Re-issue Rude nonsense!!


Formidable Queen of the 80s, Paiste updated their RUDE program in the mid 1980s and rolled the famously beastly into the new 3000 Series.


Wow!! This one is EXTREMELY FULL! Cuts like a beast! 


Chances are this 17" doubled as a cocaine tray at the Rainbow Room.


Famously unlathed and heavily Hammered in the glorious circular styled 80s RUDE pattern.



At 1577 

grams this beauty casts a full shadow over your guitar player's ego! 


Full. Surprisingly dark - yes dark.  Much lower pitched and more raw and organic than a 2002 and infinitely more raw and penetrating. 


As you would hope, this 3000 PAISTE RUDE projects like all the vomit hurled at a RATT concert in 1988!!! 


Made famous my myriad Paiste artists - especially in the 80s.


Damn near immaculate.  No issues. 


A hell of a lot of fun to play the 3000 one from back in the day!