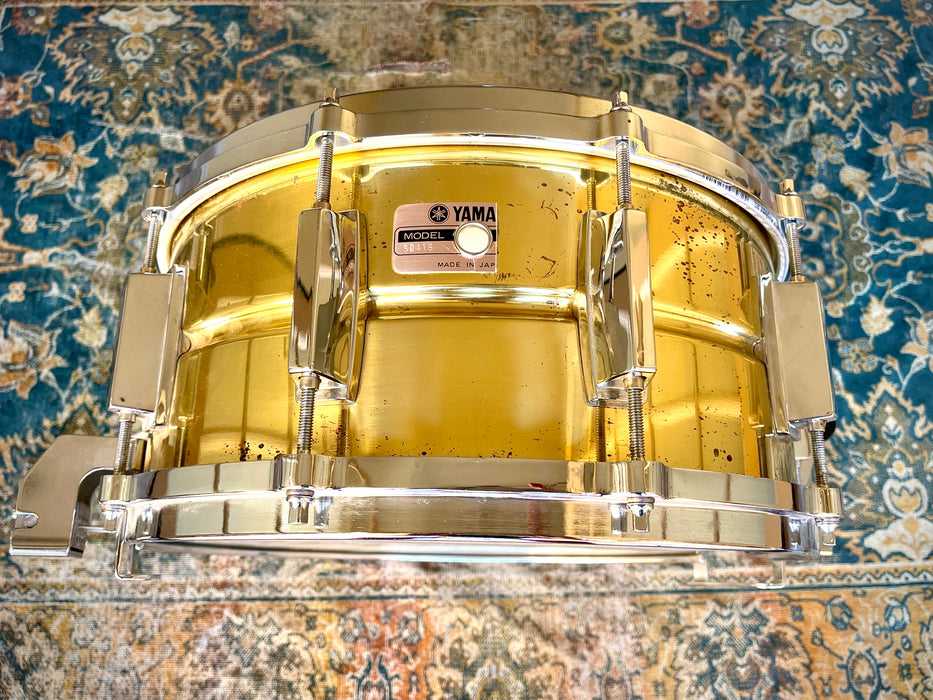 MIJ Iconic Yamaha SEAMLESS SHELL Brass 6.5" X 14" Snare Vinnie Colaiuta SD 416
Sold out
Original price
$439.99
-
Original price
$439.99
Perfect for the studio or any gig at all!


Here's a famous Yamaha - PINK JUMP SUIT VINNIE COLAIUTA! The SD 416!  Sexy!


That's right! The famous Yamaha ad from about 30 years ago.  The one with the White Recording Custom and this snare - and this one even has the exact same Yamaha Throwoff (a bit like the vintage Slingerland one.) The big one that's smooth!


And of course, it's the famous Made In Japan Pink Badge SEAMLESS BRASS shell - this is one of the greatest snare drums Yamaha ever produced. Yamaha stopped producing Seamless snares I believe in the late 90s or early 2000s and the world has been a bit sadder since.


Here are the luscious specs:


Famous late 80s/early 90s Seamless Brass Snare in the deep 6.5" X 14" size.


Yamaha Diecast Hoops supply plenty of attack and cut extremely well. Amazing for rim shots.


Super smooth original Yamaha slap shot-style Throwoff works perfectly with all wires in tact.  That's almost impossible to find. It has the extended wires and is extremely sensitive even at a whisper. Adjustment knob works perfectly for maximum sensitivity and control.  


10 Recording Custom Yamaha lugs.  


Real Deal Pink Badge (the best years!) with the Made In Japan SD 416 engraved. (part of badge missing but guess what, it sounds exactly the same!)


Brand new vans head on top, Original Yamaha head on bottom (could be switched out but I'm including it because it is the original and that's pretty amazing.) Typical wear/tarnish on the shell.  Nothing at all that affects the tone.  


This snare absolutely destroys the newer and more expensive Made in China Yamaha NON seamless brass snare drums.  


This is the tone that put Yamaha on the map - the tone that caught Vinnie's ear!


And with good reason! You'll be hard pressed to find a drum that sounds this amazing - (especially for the price) outside of a $1500 vintage COB LUDWIG.  



A hell of a lot of fun to play this iconic sonic candy!