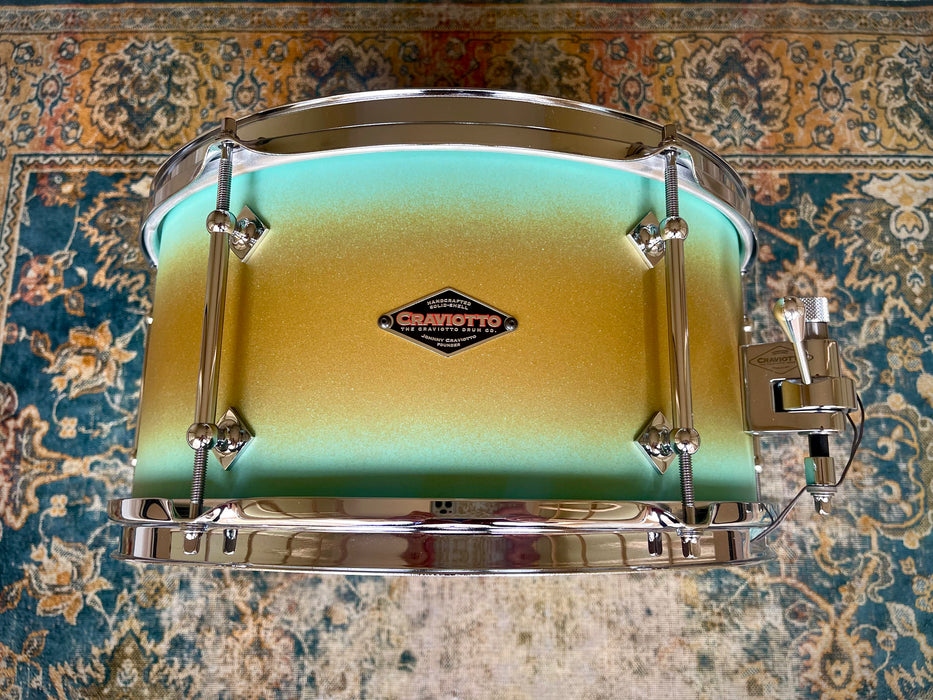 UNIQUE CRAVIOTTO 6 LUG Solid POPLAR 7" X 14" Snare CUSTOM Aqua Gold DUCO
Sold out
Original price
$1,299.99
-
Original price
$1,299.99
Hear's something special:


A super VINTAGE Styled Unique, One-Off Custom CRAVIOTTO 6 LUG SOLID POPLAR Deep 7" X 14" Snare with 30 degree edges and Maple Re-Rings in a beautiful AQUA GOLD DUCO Finish.  


That's a mouthful! And a delicious one! 


I've never seen another Factory 6 Lug Craviotto Snare and definitely not one in Vintage Aqua Duco. And it's a brilliant!  As many a session drummer knows, Black Beauties are amazing for that certain tone, but at the other end of the spectrum, every good studio has a 6 Lug Snare in the quiver for that monster fat, warm, woody tone.  


Here are lovely specs: 


Very Rare Craviotto Solid Poplar Shell with Maple Re-Rings. 


Deep 7" X 14" Size. Tons of low end. Way more than most snare drums. 


6, yes 6 Tube Lugs for a wide open and super FAT Vintage tone. I mean really fat sounding - solid and six lugs! That's a beautiful solid shell that has maximum resonance and is unencumbered by ten lugs etc. 


Factory 30 degree vintage style edges. 


Craviotto Trick Throwoff works perfectly. 


Diamond Craviotto Factory Wires are clean. Craviotto Factory bottom head.  Top head is a clean REMO Coated Emperor. 


Diamond Craviotto stamp on the inside of the shell with Craviotto "Made in USA" badge and signature.


Unique Vintage style Aqua Gold Duco - like the Vintage Ludwigs of yore. 


Absolutely glorious to play! Massive, round and warm attack. Low-end for days. Leave it wide open for body and resonance or put moon gel or paper on it for an incredible 70s tone.


Immaculate condition! Perfect.  Playable.  Collectible.  Nothing I've seen like this beauty - factory 6 Lug Solid!